Cornershop
Sole Savior
One local cobbler sees the recession's silver lining.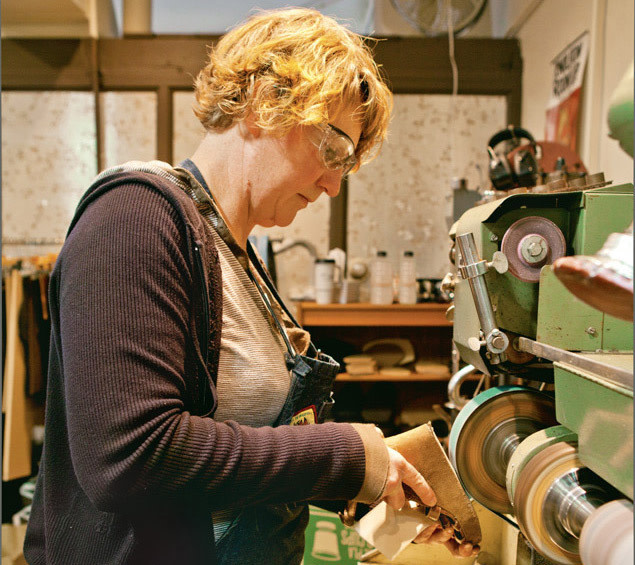 AS EACH SEASON BRINGS with it a suite of new styles for feet—and the pang that goes with coveting them—one North Portland shop is thriving on some people's commitment to the shoes they already have.
JD's Shoe Repair owner Julie Derrick has long been a believer in fixing old kicks in lieu of buying new ones. And as the recession stubbornly lingers on, her sole-salvation philosophy has gained more Portland converts. 
In fact, in November Derrick traded her original N Vancouver Avenue storefront for a new N Alberta Street space triple its size to accommodate a growing load: some 600 pairs per month needing a little—or in some cases, a lot of—TLC.
"It's partly economical. Plus there is a big culture of sustainability in Portland," Derrick says of the boom. "And it's a niche market. There's not a ton of us out here right now; a lot of the older cobblers are retiring."
Derrick specializes in sentimental repairs. She's known among vintage devotees for her work recrafting decades-old flea market boots or a beloved bag passed down from Grandma. And as one of Portland's only female cobblers, she's found a unique customer base: ladies looking for someone with firsthand knowledge of the abuse women's shoes (and sometimes their feet) endure.
"A lot of women feel an immediate trust with me and believe that I'm going to understand their shoes better," says the 46-year-old mother of one.
Come spring, Derrick plans to help her patrons understand their shoes a bit better, too, with workshops that will range from finding the right type of shoe for your foot to how to properly care for vintage goods and make minor repairs of your own at home.
We call that preaching to the congregation.