Product Pick
Python Rib Jewelry Anyone?
Mississippi shop Paxton Gate has some eerie accessories.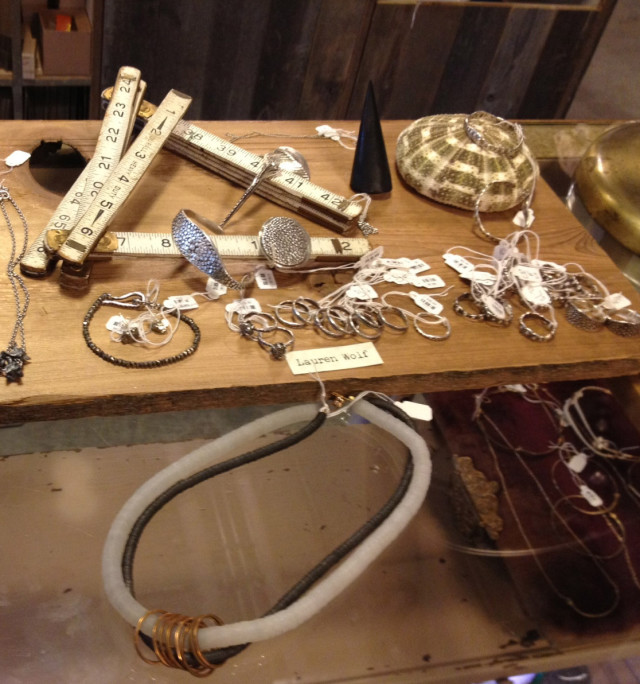 Walking into Mississippi shop Paxton Gate is complete sensory overload. The vegetarian/animal lover in me felt the eyes of dozens of taxidermy animals mounted on the wall following me everywhere I walked. And was it just me or did that lion that looks mid-pounce actually take a little swipe at my head?
Just when I thought PETA might come smack me upside the head two important things happened. First, the owners caught my wide eyes and explained that all the animals and skeletons in the store are obtained through ethical manners (i.e. they either died of natural causes or had been euthanized in humane ways as part of animal care and control programs intended to manage wildlife populations). Second, I caught a glimpse of the jewelry case and forgot all about the buffalo hanging over my head. He seemed content up there anyhow.
Owners Andy and Susan Brown not only have an extreme talent in the visual merchandising department, their taste in buying jewelry is superb. Looking at the pieces encased in glass is the first time in ages I have been able to say, "I've never seen that before." From rings made out of snake vertebrae to silver bracelets cast off the skin texture of a stingray the assortment is never lacking for interest.
Some of the highlighted designers include: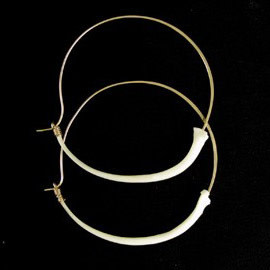 Jewelry artist Alana Douvros working with the natural architecture of a real python rib bone, incorporating it with gold fill to make these inspired earrings. Earrings come in diameters from 1 inch to approximately 2.5 inches or more (depends how chubby that python was).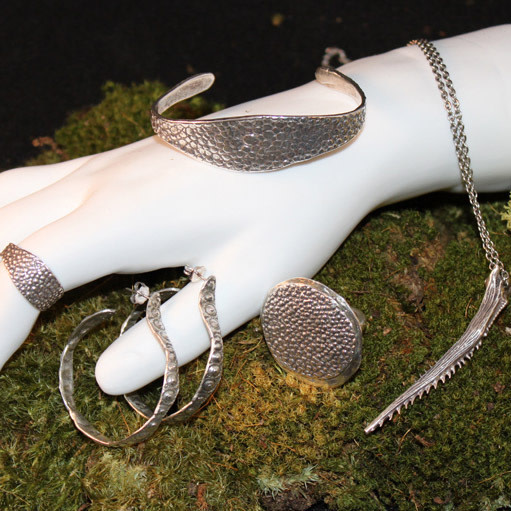 Lauren Wolf
uses sterling silver to create nature inspired pieces.  Casting off of incredibly cool and strangely beautiful objects such as, snake fangs, stingray skin, sea urchin, anaconda vertebrae, amazonian catfish bone and bivalves, the result is stunning (and just the right amount of eccentric).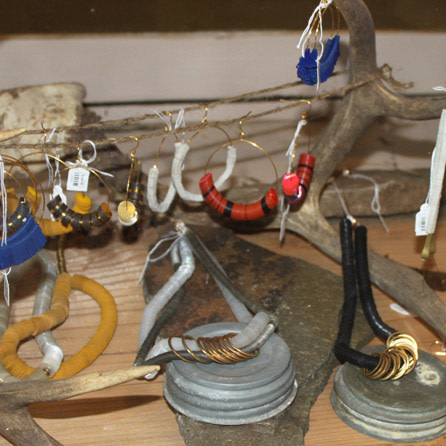 We're used to thinking of sequins as blinged out glam, but artist
Giovanna Torrico
created an amazing line of necklaces and earrings by stringing vintage sequins together (hiding the shiny part) and incorporating gold and brass separators. You've never seen sequins like this before.
Paxton Gate
204 N. Mississippi Avenue
Portland, OR 97217
Tel: (503) 719-4508
Daily 11- 7pm,
Closed Tuesday