Fashion News
Queen Bee and Spooltown's Big Change
There's a new factory in town.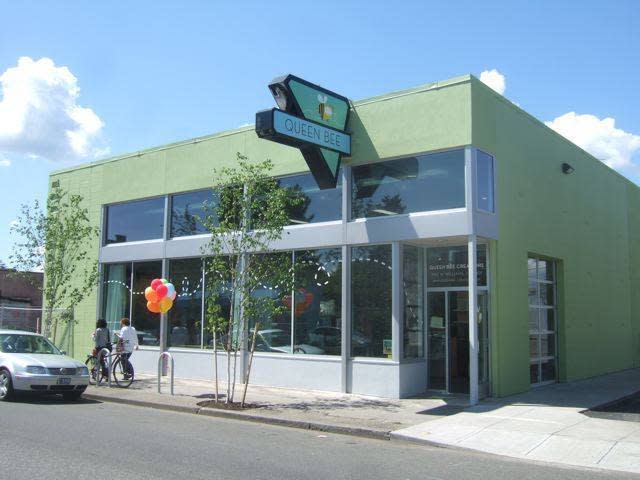 Chances are, at some point, everyone in Portland has laid eyes on a Queen Bee bag. With their signature stitch lines and quality construction, it's an easy game to pick out how many you see at any given coffee shop. But now the times, well, they are a changing.
Nine years after coming to Portland founder Rebecca Pearcy has restructured her Queen Been business in order to more fully focus on design work (read: somebody else needs to make the bags). The reorganization left room for the former production manager Sara Tunstall, to start a new small-run factory called Spooltown, housed within the same building on North Williams Avenue. Spooltown will manufacture Queen Bee's signature line of eco-friendly handbags and wallets, as well as work with other clients to develop and produce Portland-made goods.
Tunstall says, "Working with Rebecca for the last 5 years reinforced what I already believed; there is something incredibly valuable about manufacturing goods in the US. Spooltown is there for emerging and established design businesses to have small runs of products made locally."
A lot of the Spooltown crew is former Queen Bee production employees, so they are well equipped to handle finicky fabrics, like leather and faux-leather. "There was a gap in Portland between making one item at a time at home and sending work overseas or out of state for large scale production runs. Spooltown will fill that gap. We aim to have very close relationships with our clients, build rapport, connection and history."
While there are other small run production places in town (like Portland Garment Factory), it still is a relatively open market for how many designers reside here. And with Spooltown's experience in the bag world, it will be interesting to see if they end up with a clientele in that area or across the board. Regardless, it's one more way we can keep the production line from thought to finished product all inside our city and we all know that makes Portlanders happy.