Bridal Bliss
Rocked at the Nines
This Sunday an epic bridal bash goes down at the Nines.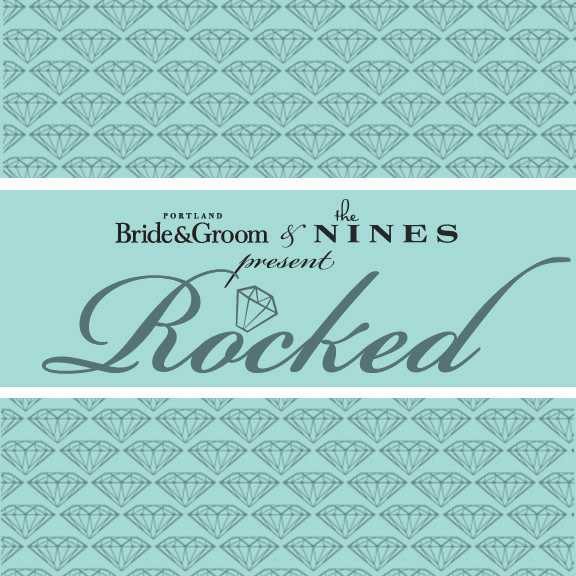 This Sunday Portland Bride & Groom is putting together a bridal blitz unlike any other. If you're getting hitched, know anyone who's about to, or, hey, you just feel like the time might be close, get yourself down to the Nines this weekend. In one fun afternoon you can check out around 90 local vendors that cover every aspect of the big event and then head off to an Oscar party for a full day of pretty party time.
You'll get the chance to check out the Nines as the venue for a wedding reception, guest accommodations, a rehearsal dinner, bridal shower, and whatever else you can possibly think of. Three top bridal consultants have combined efforts to present three different styles of weddings: a traditional champagne formal wedding, an urban extravaganza with vibrant colors, and one over-the-top Lady Gaga–themed day with rich colors and extravagance galore. Each of the areas will have florists, photographers, cakes, wine/spirits, catering, and fashion for you to inspect.
The fun won't stop there. There's a "Groom's Room," boutique vendors for before, during, and after the big day (hello, honeymoon!), spas, fitness folks, accessories, and hair and makeup experts. And the cost to get in on all this action? Zilch, zero, nada. Just register to come, bring your gaggle of girls and enjoy the party.
Not a shabby way to spend a Sunday afternoon, eh?
Rocked at the Nines
525 SW Morrison
Portland, OR 97204
Sunday, February 26
11 a.m. to 3 p.m.
Vendor list:
Beer
Ninkasi – Widmer – Brideport Brewing
Cakes / Sweets
AK Cake Design – One Divine Party – The Nines – Le Cookie Monkey – Petunia's Pies & Pastries – Moonstruck Chocolate
Catering
the Nines
_
Destination
Black Butte Ranch – Brasada Ranch – Sunriver Resort_
DJ / Live Music
Event Team Entertainment – High Fidelity – Mobile Music – Puddletown Studio – Pro DJs Oregon – Hit Machine
Fashion
Love & Sass – Oh Baby – Xtabay – Lille Boutique – English Dept – Popina Swimwear – Mabel and Zora – Duchess – Mapel – Divine Designs – Anna's Bridal Boutique – Joy's Uptown – Kash Ross Creations – Este's
Floral
Fleur:ology – Fieldwork – Zest – Blüm – Geranium Lake – Rosemary Stafford – Old Town Florist
Gifts
Nambé – Kitchen Kaboodle – The Wedding Cottage – PDX Cigars – Sorella Luna
Health / Beauty
Stick a Fork in It – Fit Bride NW – Essential Nutrition for You – Portland Spa & Boutique – Austie Eckley – Oregon Athletic Clubs – Pointe Spa – Fada – Event Cosmetics – Hair M and Y Chrome – Urban Waxx
Fragrance
Jo Malone – House of Fragonard
Jewelry
Packouz Jewelers – Stella and Dot – Lucia Fine Jewelers
Photobooth
Limelight – Paparazzi Tonight
Photography
Powers Studios – Aralani – Jessica Hill – Jos Photographers – Erin Grace – Peekaboo Portland
Rentals
West Coast Events – Barclay Event – Champagne Vintage – The Party Place
Stationery / Paper
Oblation Papers & Press – New and Blue – Alesia Zorn Calligraphy
Transportation
Portland Pedicabs – Konect Aviation
Venue
the Nines
Videographer
Hybrid Moon – Black Label Films
Wedding Consultants
Champagne Wedding & Event Coordination – Bridal Bliss – Encore Events
Wedding Services
Portland Bride & Groom – The Wedding Lounge – Marriage Team – The Groom's List
Team Casino Parties & Music – Bravo Publications
Wine / Spirits
Argyle – Torii Mor – Methven Family Vineyards – Cathedral Ridge – Wine by Joe – Diageo's Master of Whisky – Pearl Wedding Cake Vodka