Happenings
Beggar's Banquet
Stop by Union Pine Saturday for tons of local vendors in one easy spot.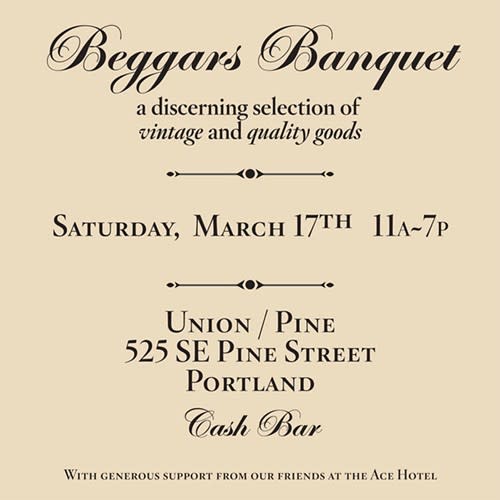 Canadian based crew Beggar's Banquet specializes in monthly Gastown "pop-up flea markets" full of both vintage and quality goods. Does that sound like something another city might appreciate? If you guessed Portland, you win the million-dollar prize.
This weekend the Beggar's Banquet peeps have Union Pine stocked with some of our favorite designers and shops in town. Skip out on the St. Patty's day bar scene for a couple hours of combing through racks of cool clothes, pretty jewelry and awesome housewares.
What: BEGGARS BANQUET PDX: A discerning selection of quality goods.
When: Saturday, March 17th 11:00am until 7:00pm
Where: Union/Pine
525 SE Pine Street,
Portland, OR 97214
Web: FB Event Page
Who: Vendor list below (check the web for new additions)