Bridal Bliss
Leanne Marshall to Show Bridal Collection at PAM
From Project Runway winner to bridal designer, Leanne Marshall comes home to show off her threads.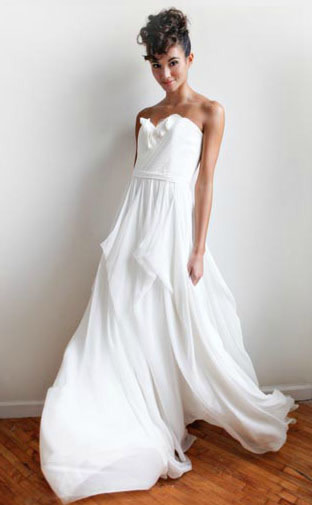 If you were glued to season 5 of Project Runway, you saw Portland's Leanne Marshall win the show with her flowing, beautiful collection. You might also recollect that when her finale wedding gown came marching down the runway like an exquisite cupcake, it sealed her success.
Cut to four years later and things have changed a little. Marshall left Portland for the Big Apple and has continued to evolve into a mind-boggling impressive designer. Her current focus is on her feminine bridal wear with signature embellishments and draping.
And she's bringing it home to show off.
Wednesday, April 25th, AniA Collection and the Art Institute present CHOICE, a high-fashion bridal runway show at the Portland Art Museum. Not only will Marshall present her gorgeous collection of gowns, but she'll also present a $1,000 scholarship (graciously donated by AniA) to fashion design student Karina Reed.
Reed entered the boutique's scholarship contest to design a gown based on Portland inspiration and her impressive winning creation "The Ross Island Bridge" will be revealed as part of the show's finale after five themed runway segments.
Buy your tickets now brides-to-be, this one will probably sell out.
 
Wednesday, April 25th
6-8pm
Portland Art Museum
Kridel Grand Ballroom
Tickets: $10 or $20
Click to Purchse