Happenings
Prana Fashion Show
Want to go to a yoga inspired fashion show? We've got the details.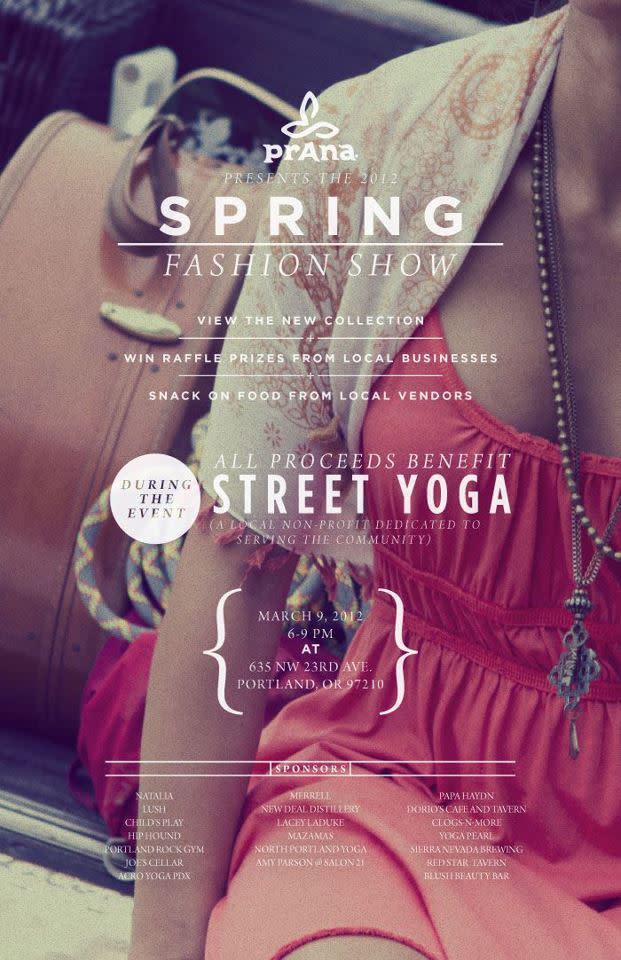 Well here is something you don't see every day…
Prana, one of the newest additions to the bustling shops on Northwest 23rd hosts their first annual fashion show this Friday, March 9th from 6-9 PM. Why is that different than the other show regularly going on around town? Prana is an activewear line for folks who yoga and rock climb, and other things not usually immediately associated with fashion shows.
The show consists of their spring line, a collection clothing emphasizing soft, livable, and sustainable fabrics. Included in the festivities will be intermission performances by Acro Yoga PDX, plus the requisite beer/wine/food, and a raffle benefiting Street Yoga.
Street Yoga is a non-profit organization that teaches "yoga, mindful breathing, and compassionate communication to youth and families and their caregivers struggling with homelessness, poverty, abuse, addiction, trauma and behavioral challenges so they can grow stronger, heal from past traumas, and create for themselves a life that is inspired, safe, and joyful."
The whole thing is free so you might as well head down and check it out so you can cross "Yoga Fashion Show" off your bucket list. And I know you're curious to find out what an Acro Yoga performance is (I know I am).
Event details:
Date: Friday, March 9
Time: 6-9 PM
Address: 635 NW 23rd Ave, Portland OR, 97210
Cost: Free
Website: www.prana.com/portland
Phone: 971.244.0995
Raffle prizes include:
• Pure Pleasures- signed copy of living food cookbook by Natalia
• Beauty and Bath products by LUSH
• Gift card for Child's Play
• Gift card for Hip Hound
• Gift certificates for Portland Rock Gym
• Two bottles of Spirits from New Deal Distillery
• Prana gift cards and product
• Photography package by Lacey LaDuke
• Mazama's Skill Builder Class or Clinic
• Two North Portland Yoga passes for 10 classes each
• Gift Certificate to Papa Haydn
• Gift Certificate to Dorio Café and Taverna
• Two pairs of Merrell Barefoot shoes from Clogs-n-More
• One month unlimited classes at Yoga Pearl ($145 value)