Happenings
Portland Sewing's 2nd Annual Fashion Show
Promising young designer show off their lines.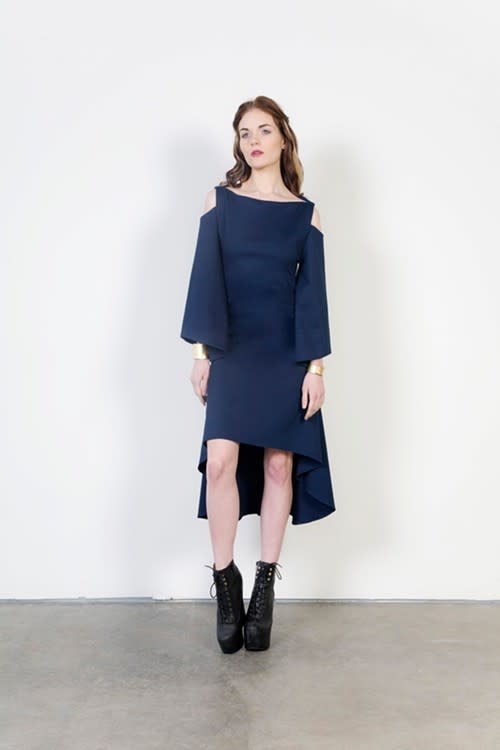 Portland Sewing has made it to the terrible twos. The local school that's focused on teaching indie designers to create for themselves is hosting their second annual fashion show and this time with a round of kids from their Fashion Forward program. "Part of our vision is to create a market center for the apparel industry here in Portland," says Portland Sewing owner Sharon Blair, "We have so much talent here, why not?"
Many of Portland's fashion folks have studied with Blair (as have I). Four of her students, Gretchen Jones, Becky Ross, Janeane Marie and Bryce Black, have gone on to compete on Project Runway. Get yourself a ticket to the April 29th show and maybe you'll get to see who'll be an up and comer for Runway in a couple of years. Proceeds from the show benefit the Elisabeth Marie Fashion Design Scholarship that prepares teens for a career in the fashion industry.
Sunday, April 29th
At The Slate
2001 NW 19th Avenue
Doors open @ 6 pm
Show starts @ 7 pm
To Purchase Tickets
$20 online / $25 at door
Designers featured at Fashion Forward (and their bios) are:
Bryce Black for StudioSKB
"I enjoy creating fashion that makes people think," Bryce Black says. "Fashion should tell a story and spark emotion, from the first sketch to a person's wardrobe."
Black likes to meld the avant-garde into clothing and create high fashion art pieces that also are wearable. He is inspired by the designs of the late Alexander McQueen and McQueen's effort to push the boundaries of what was once considered costume when creating fashion. Black's avant-garde garments have appeared on the covers of magazines including Portland Monthly. He competed on Project Runway, season nine.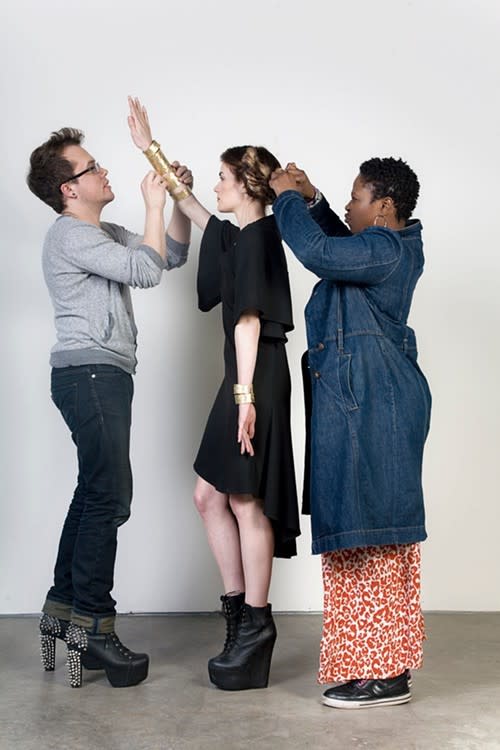 Joshua Buck for Chicago Harper
Joshua Buck has spent most of his life studying art. From childhood, he has painted, sculpted, made prints and collages. At age 15, he saw an editorial in Vogue magazine featuring Chinoiserie.
"It was the first time that I felt in a fashion context the same emotive characteristics that I cherished in art. You could see the pleasure in its creation, both from the perspective of an observer, and from the perspective of an artisan. It was the pleasure of exquisite craft."
Buck studied painting at Pratt Institute and graduated from Art Institute of Portland with a degree in apparel design. He has appeared in several Portland-area fashion shows.
Hillary Rose Christen for Purhaus USA
Christen graduated from the Fashion Institute of Design and Merchandising in Los Angeles with a degree in fashion design and moved to Portland to launch her line. Her designs feature modern lines for young women that provide style, functionality and comfort needed for daily wear.
Karen Davis for Moulagerie
Davis's mother modeled for Neiman Marcus in the 1960s. This inspired Davis to create her own designs. It was Davis' later experiences working with the poor in Cambodia that compelled this Portland native to combine her appreciation for fashion with a global social responsibility. Moulagerie is locally and responsibly manufactured using natural and sustainable fabrics. Five percent of each sale is given to educate young women in Cambodia who have been rescued from slavery.
Keely DiPietro for Taruc
DiPietro is a designer with more than 13 years experience. Her goal is to provide timeless and functional menswear clothing with modern details that fit. Her line, titled Taruc, targets 20 to 30 year old gentlemen who enjoy a professional career, traveling the outdoors and living adventurously. "Taruc combines the classic fit of menswear with details like leather and waxed cottons" she says. "My customer appreciates a tailored suit with a twist; whether that's a brocade lining or embossed leather buttons."
Vanessa Lambert for La Vie Célèbre
Lambert loves to create fashions that express the character, intelligence and wit of each woman. "I started making clothes for myself because I've always felt a woman's wardrobe is a window into her imagination, and there wasn't much in the market that could keep up with mine." Thus was born La Vie Celebre. Originally from California, she lives in Portland with her husband, dog and cats.
Joshua Landry for Jahn Thursday
Landry hails from Springfield, Ill. His client is a savvy young professional, 20-30 years old who lives an adventurous life. His current collection, LEAGUES, is inspired by Landry's experiences sailing. It incorporates British tailoring, Japanese construction, and Scandinavian sensibility. "Think blue collar Americana with Northwestern roots tailored for the modern gypsy," he says.
Laura Longenecker for Abyssal Animals
Originally from California, Longenecker entered UC Santa Cruz wanting to be a lawyer and came out of it a costume designer. She decided to bring her 20+ years experience sewing to Portland to build her fashion design career. The featured collection, Scorpio Rising, is rocker inspired cycling garb. Using the transformative powers of fashion, her ultimate dream is to do costume for film as well as design for Lady Gaga.
Lisa Silveria for Wandering Muse
One of Silveira's greatest passions is travel, from which she draws her inspiration. She has interned with a fashion designer in Florence, Italy. It was here she developed her passion for Italian fashion, knitwear and textiles. She also studied silk painting, batik, jewelry design, oil painting, and the ways of Italian fashion and "La Bella Figura", a way of life emphasizing beauty, good image, aesthetics and proper behavior.
She is now a contract designer for a local Portland fashion label as well as designer for her Italian inspired knitwear line.

Mark Stoelk for Von Stoelk
Stoelk is a native Oregonian. He recently returned from Salt Lake City, Utah where he studied international business and marketing. An avid athlete himself, Stoelk designs ready to wear for the athletic man. He uses luxury textiles of wool, silk and leather for tailored pants, coats and jackets that accentuate the male physique.