Q & A
Q & A with Vanna White
We talked to Vanna White about 30 years of sequins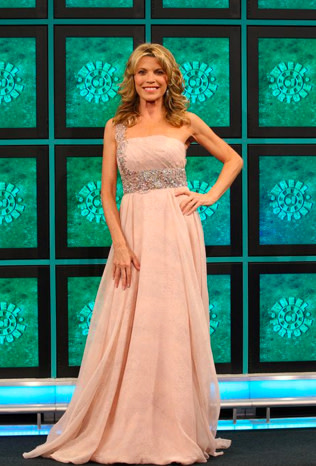 I still clearly remember sprawling on my living room rug watching Wheel of Fortune in the 80s. It was one of those shows that you didn't necessarily run to the television for, but when flipping the channels it was always safe to leave it there. Obviously, it's just plain a fun game, but co-host Vanna White became the star in my eyes for her sparkly gowns, blonde hair and perfect make-up. Plus, the ability to make turning letters and clapping seem glamorous (she actually hold a Guinness world record for "Televisions Most Frequent Clapper") is an added feat.
This month "The Wheel" came to town to film a months worth of shows (airing in May) in just four days at the Oregon Convention Center with an emphasis on sustainability. The crew trucked in items with bio-diesel fuels, catering composted everything possible from meals, any leftover wood and supplies were donated to schools and theater groups and they used eco-friendly fashions from lines found at local shops like Ecovibe in the Pearl.
But the best part (selfishly) about all of this? I got to sit down and talk with the Game Show Guru about her clothes.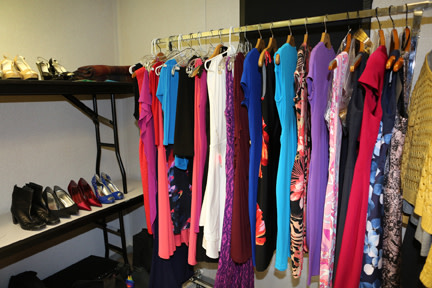 Eden Dawn: Looking back now on everything, I know you've worn something like 5,000 (editors note: 5,600 to be exact) dresses. Is there any way that you have some favorites?
Vanna White: My favorite ones are the comfortable. Seriously, there are so many beautiful ones of course. I put on one and its beautiful, then I put on another one and it's beautiful, but I would say the comfortable ones are my favorites.
E.D: So the show has been going for so many years, when you look back at some of the earlier ones do you ever think…
V.W: I wore that?!
E.D: Yeah!
V.W: Yeah I do. Those big old shoulder pads? The hair? The whole thing and the 80's. Yeah I do, but you know 30 years is a long time.
E.D: It's a moment in time, for sure. In the future, they can use your dresses to tell the history of pop culture. What do you wear when you're not on the show? What's your style?
V.W: This is me (motions to her jeans and long sleeved t-shirt). Usually no make up and a ponytail. Jeans…sweats… just really comfortable.
E.D: Do you considerable yourself a fashionable person?
V.W: Not really. Because I dress up for work. It's the last thing I want to do.
E.D: So you don't really follow trends and all that?
V.W: I really don't. I'm just more laid back and casual. I mean I do enjoy high fashion, and I do wear high fashion. But most of the time, I'm more casual.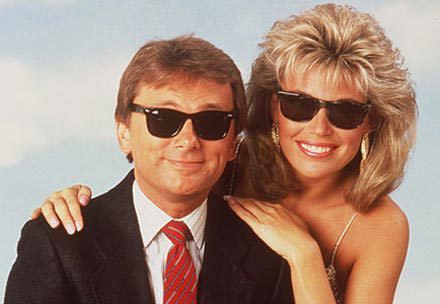 E.D: Are there ever any days on set when you think, "Hmmm maybe we could have a jeans day?"
V.W: I do. I think that all the time.
E.D: You should have a Levi's week!
V.W: That would be awesome! But it's probably not going to happen.
E.D: If someone told you they were going to dress up as you for Halloween, what would you tell them to wear?
V.W: Glitter. Glitter and Glam. Yes, the more the merrier. Over the top. Why not? Big hair, big jewelry, rhinestones, sequins, heels. Go for it. Make up. Red lips.
E.D: Do you have say with your dresses with Roberta (show stylist) and Kathi (CBS costumer)?
V.W: What happens is they'll bring in about 100 dresses, from all different designers. We pick like the top 20, because we're doing 20 shows. I guess I do have a say somewhat.
E.D: Like it's its uncomfortable or hard to move…
V.W: Oh yes. And I will tell you that out of the 5,000 plus gowns I've worn, I have not liked every one of them. But, I feel like I have to have variety. Just because I don't love it, doesn't mean someone else doesn't. I try to be open-minded about that.
E.D: I won't ask you who! Because I know you won't say (laughing)
V.W: No, it also depends. You know some designers will have like five great gowns and then this other one is like "What?!" Where did this one come from? But then it's like, Ok this is different, I'll wear it. I mean they all have good and bad.
E.D: Do you feel like there is a lot more variety now? I feel like what you wear has changed so much. You were so known for that kind of strapless, sequin gown and like a French twist. Was there a conscious effort to break that up or did it naturally happen?
V.W: I think we just added more designers for versatility. And it's interesting, while I'm here in Portland; I'm not wearing any sequins! And yesterday I had like tight leggings with a tunic top and boots. That's unusual for us. I loved it! Very comfortable.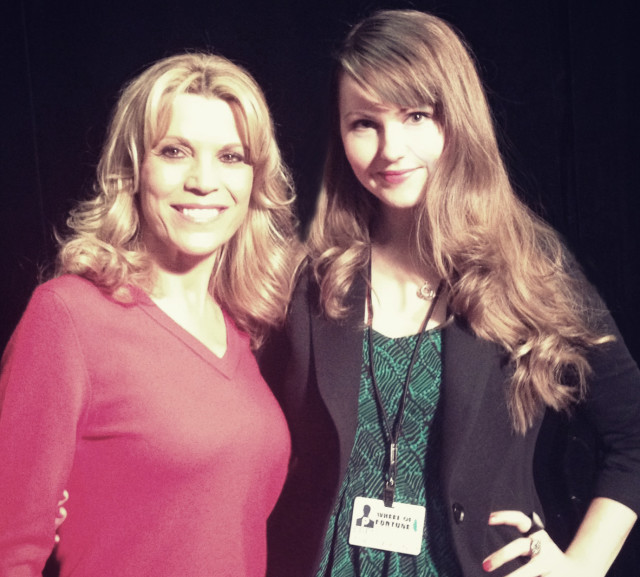 E.D: Is there ever a day where you think you'll just say, "I don't want to wear anymore sequins."
V.W: No, because I think that that's me, and I think it's what America likes to see. And I will say that on our show, I think that it works.
E.D: It does work, it makes things fun. Well thank you so much, it was really nice to meet you.
V.W: So good to meet you! See you later.
And she scooted off to get glammed up, the next time I saw her was on stage touching letters and doing what she does best – clapping and looking timeless.