Happenings
Darling Buds of May
A one month pop up shop of local favorites.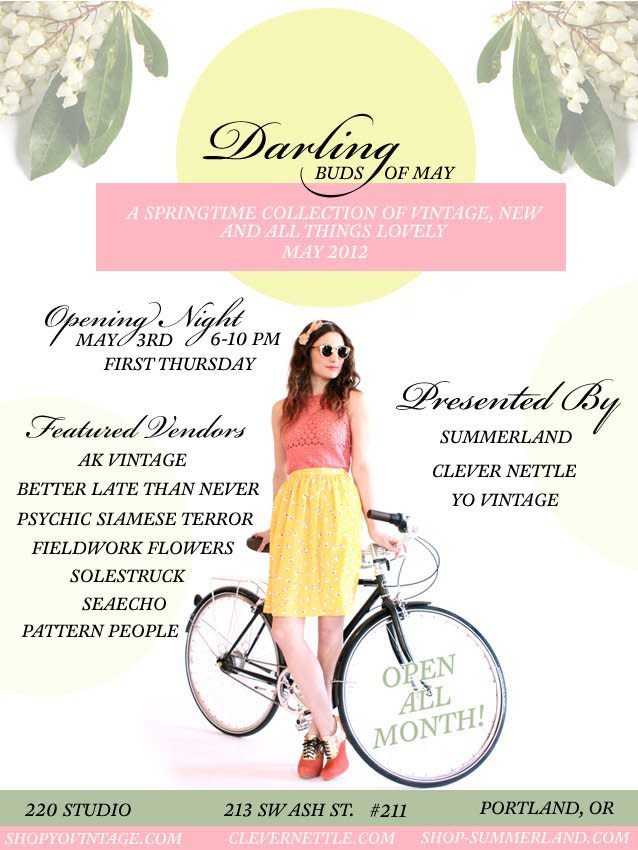 Portland has made it on all types of "Best Of" lists from most bikeable to the most hipsters, but it seems as if we should get an award for "Best place to play nice with your neighbors." In what might be the millionth happy collaboration of the year Salon 220 will be overrun for May with a one month pop up shop curated by three of the city's coolest online vintage shops – Summerland, Clever Nettle and Yo Vintage.
If that wasn't enough to already get you going (it should be), the three ladies behind those companies have invited their friends with businesses to come be part of the pop up as well. Kicking it off at First Thursday this week, the party will commence with the grand opening featuring the aforementioned shops plus AK Vintage, Better Late Than Never, Psychic Siamese Terror, Fieldwork Flowers, Solestruck, Seaecho and Pattern People.
Pop by Thursday to welcome the kids (temporarily) to the 'hood, or on any night Tuesday through Saturday (from noon to 6). And let them know you appreciate them all being sweet to each other because we reap the benefits.
Darling Buds of May
at Salon 220
213 SW Ash Street Suite 209
Special Events:
Thursday May 3rd, 6pm – 10pm Opening Night Shopping Party with Girl Group Sounds + Complimentary Drinks
Saturday May 19th, 12pm – 6pm Crystal Maze Jewelry Event + Flower Crown Workshop
Thursday May 31st, 12pm – 6pm Closing Sale