Fashion Event
Review: Open Season 2012 Fashion Show
What did we think about the Open Season fashion show? Happy things.
Saturday night's annual installment of Open Season reminded me of all the reasons there are to love our fashion scene. There's the fact that turning up at these annual events in your best dress allows you to continue living the glory of prom for years to come (or for the first time for those of us whose cruel schools refused to hold them). Then there is the camaraderie you feel in the space as you all come together with the sole reason to support the community you respect. Finally, the clothes (and the show) were just really impressive.
For the show's eighth year, producer Marjorie Skinner decided to leave the Bossanova ballroom for the spacious upgrade of Sandbox Studio. It was a good choice. With the roomy space and garage doors that could roll up for fresh air to breeze in during the pre-show cocktail hour the hobnobbing time was comfy and fun. And I (for once) wisely anticipated the standing room only situation and wore cushioned wedges, rounding out the positive experience. Now onto the fashions.
Haunt – Yes, I am biased towards designer Holly Stalder's beautiful bridal wear and accessory designer Rachael Donaldson's add-ons. But when it's always reliably good, why shouldn't I be?
Jesseca Anne – This is a jewelry line and a cool one at that. I will say, accessories are always hard to get a good look at on the runway and I wish I knew if she had paired with an apparel designer? But…close ups are always available on the shop site.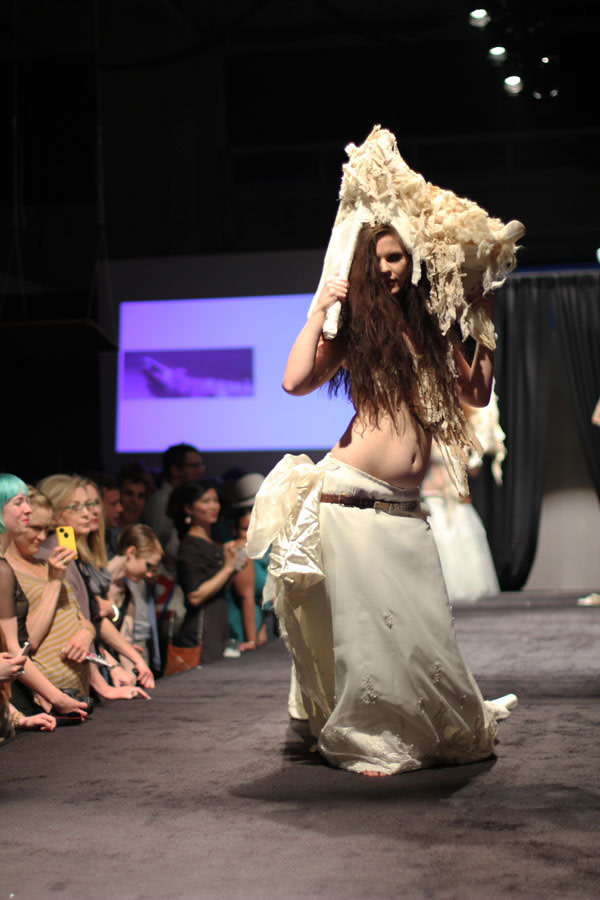 R.A.W Lingerie – Rio Wrenn artfully creates her own textiles by rusting fabrics with different found objects. The result is fabrics that are one-of-a-kind. Add that element to the killer kimono nightgown finale and you can call me a fan.
Bridge & Burn – One of the most accessible men and womenswear line in Portland. The ready-to-wear reaches out to those who can handle looking both preppy and cool at the same time.
Julia Barbee – Belly dancers draped in elegant tatters swayed their hips to drum beats down the runway to the screams of the thrilled audience. Need I say more?
Reif – Designer Lindsey Reif worked the sheer trend in a most delightful way. The green and black color blocked blouse is sure to be a hit.
Siljan – Siljan is actually a shop on north Albina, so really they more styled looks. But the looks were good and who else wants a giant necklace now? Update: Turns out the store Siljan also designs its own line of accessories (also called Siljan), and those killer bags are all locally made and reasonably priced. Yay!
Isaac Hers with Martine – Isaac Hers showed the same collection we previously reviewed at their solo show, but this time with the addition of killer bags from Martine Satchels.
Poler- I'm still a little confused on this one. I saw a sleeping bag and some cute sweatshirts. I believe it's camping related stuff? (Side note: What's camping?)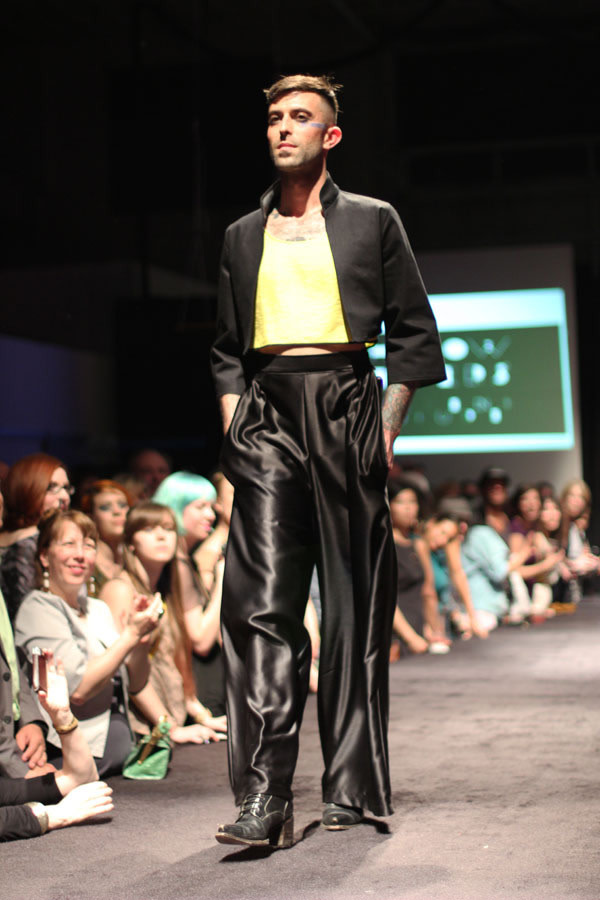 Shadow Sisters – Brand new to the fashion scene Shadow Sisters showed an impressive debut. The graphic prints, bold color choices and gender bending models made for a dynamic display. I'm excited to see what comes in the future from this trio of ladies.
Sara Bergman – As individual pieces Bergman's feminine style holds up quite nicely. As a collection, it's more difficult to find the tie that binds.
Dawn Sharp – Sharp closed out the show with some velvety pieces ripe for petting. Her finale bridal look was a simple classic gown that had a breezy, sweet quality to it as it walked down the runway to more that a few "Oooos."
11 months and 3 weeks til next year's show. Sigh…