Fashion News
Review: Portland Sewing Fashion Show
The slide show and review of nine independent designers.
Sunday night's Portland Sewing fashion show in the Northwest industrial district unleashed a lot of new talent into the current indie designer pool. The show attracted a strong crowd and put a healthy dose of style onto the runway with both some room to grow and some room to learn. All in all, I'd say an impressive show to add to our local mix.
Designer Rundown:
Chicago Harper
What I loved: Joshua Buck had some killer pieces with such perfect tailoring it's hard to not fall in love with it.
Hoping to be helpful: I'm on the fence about a collarless blazer, but perhaps some others are game?
Purhaus
What I loved: Newbie designer Hillary Christen knows her customer. The see-through mesh and geometric prints are admittedly for a very specific customer, but one that will undoubtedly like the cool, edgy pieces.
Hoping to be helpful: The plaid crop pants felt a little too 90's for the rest of the fashion forward collection and dresses can be short, but not so short that I see a good two inches of the model's panties.
Jahn Thursday
What I loved: The jumpsuits instantly brought to mind visions of hip fighter pilots from 80s films in a highly entertaining way.
Hoping to be helpful: I don't know how many men in Portland are up for dressing like rad fighter pilots from 80s films. (Maybe we could encourage that?)
Wandering Muse
What I loved: The piece that could either be snapped under the arms into a T-shirt or snapped into a little cape was impressively creative.
Hoping to be helpful: Said cool shirts were oddly paired with asymmetrical skirts in a misstep. Pants would have been a more fashionable choice.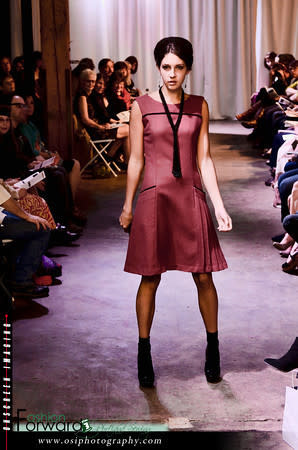 Moulagerie
What I loved: The tailored garments with well-placed details were super sellable and interesting. The side pleated dress was one of my favorite items of the whole show.
Hoping to be helpful: The accessorizing felt like it aged the pieces.
Taruc
What I loved: The denim jacket designer Keely DiPietro created was one of the coolest menswear pieces I've seen from a young designer. The work was utterly impressive.
Hoping to be helpful: The cowl-back hoodie was good in theory, but in reality is pretty unflattering. I'd say stick with the awesome jackets!
La Vie Celebre
What I loved: The last dress by far had the most potential to me. If a line is based on vintage inspiration to make it fashionable find a way to make it feel like it has a modern twist. This dress (with its tiny tie) gave me that impression.
Hoping to be helpful: I am a little concerned about the salability of lines that rely heavily on vintage inspiration. If they look too vintage buyers end up just going for the actual vintage since it's usually less expensive and one of a kind. Again, finding a way to combine the love of vintage with modern sensibilities will give this line the chance it deserves.
Von Stoelk
What I loved: The models looked kind of like cool 1970s dad's who are also undercover cops. And the fit on the pants will surely develop instant fans.
Hoping to be helpful: Not every man likes shirts that tight, but who cares? Some do.
Abyssal Animals
What I loved: Her take on the everyday tee was flattering and fun, and yet another jacket that deserved some attention.
Hoping to be helpful: Not that many woman will wear a short shirt with skintight leggings. It would be nice to see a longer version as an option for more sales opportunities.
Bryce Black for Studio SKB
What I loved: Pretty much all of it. The off the shoulder necklines, the cut out shoulders, the hi-lo hemlines….all of it.
Hoping to be helpful: Personally, I don't think of mint as a color for the fall so much, but time will tell.
To see many more pictures of the show click on the slide show.