Feature
iOregon
From high-desert data farms to scrappy urban start-ups to (possibly) Portland's most spectacular store, the world's largest tech company seeds an economic bumper crop.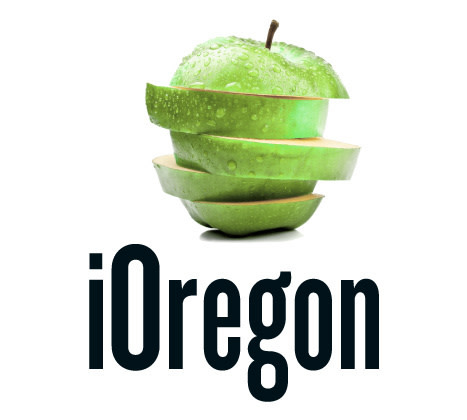 Imagine a woman—call her Eve—stepping off the MAX near SW Fifth and Yamhill downtown, one afternoon in 2014. Before her gleams Apple's new flagship store, a block of glass and stainless steel.
The place is slammed. The Tokyo-subway-style crowds that made Apple's old store in Pioneer Place's basement a retail legend grew even larger after the sleek new store opened back in 2013. Swarms of Portlanders embody the demand that helps a company started in a Reed College dropout's garage rake in $7 million in cash profit every hour.
Eve is not immune. She shoulders her way through the crowd, finds one of the store's zealous employees, and buys the latest iPhone.
TODAY, PORTLAND'S PLANNING bureaucrats hold this vision in their meticulous hands. In February, Apple (no one will say it's Apple, but … ) proposed a landmark downtown store. The city's Design Commission will consider the plan on July 19. Historic preservationists helped kill the company's last attempt to build a Portland store, planned for Northwest 23rd Avenue, in an affair that scarred all sides.
Some find it hard to fathom a "no" this go-round. "This is the best thing to happen to downtown Portland in a long time," says Mark New, a veteran real estate player. To many, the project's construction cost—Apple reportedly spends as much as $40 million to build its highest-profile stores—only hints at its galvanizing potential for the city's heart.
When it comes to Apple and Oregon, in fact, packed stores, ubiquitous iPhones, and 2-year-old iPad masters are only part of the story.
Eve breaks out her new iPhone. Inside are silicon chips made at TriQuint's Hillsboro factory. The first app she downloads was developed by a fast-growing local start-up like Meridian Mobile. When she taps out an update to the phone's indispensable calendar, the data lodges itself in a vast server near Prineville. When she dials customer service, someone in a contract call center in Tigard or Bend might answer the phone. The artsy bamboo case she buys for the phone was designed and made in a Portland light-industrial shop.
The Cupertino, California–based giant stirs vast enterprise here, mostly outside its own control. The small Portland company Grovemade, for example, employs 22 to make cases for iPhones and iPads. "We have no direct relationship," says Grovemade's Kim Pearson. "We crowd around to watch the product launches, then we get to work."
The company and its products are vital to Portland's software sector and its export-oriented manufacturing base and its "artisan" economy. Though Apple directly employs very few people here (the exception: unspecified "dozens" of programmers in a Vancouver, Washington, office), it generates jobs both high-end and low-wage. "Twenty years ago, you could have said this about PCs," says economist Joe Cortright. "Fifteen or ten years ago, the web. Now it's just generically 'Apple.' This is the fast-growing platform, so everyone wants to sell into it."
With iPhones glowing everywhere and the new data farm offering jobs in Oregon's most-unemployed county, Apple is ubiquitous. Or, in its reclusive practices—like basing its cash management in tax-free Reno, Nevada—it can be as murky as a Swiss bank account. But a scan of the landscape reveals the truth: from Prineville to Portland, giant Intel to tiny start-ups, Oregon reaps Apple's bounty.
100+

JOBS
WORKING THE GENIUS BAR Apple employs 33,000 workers worldwide for its 3 million square feet of retail space. Based on that ratio, the 9,000 square feet of "public space" in the proposed downtown project would require more than 100 employees.
90%
AVATRON Founded by former Apple software engineer David Howell, this developer of apps that help iPhones and iPads work together with desktop computers employs 12. Ninety percent of its business is Apple-related.
23,500 SQ.

FEET
THE PORTLAND FLAGSHIP STORE Apple has proposed a 23,500-square-foot new "high profile" store, one of 20 worldwide, in downtown Portland, including 9,000 square feet of retail space. Estimated construction cost: at least $20 million.
5

MILLION
NIKE'S ALLIANCE The sports icon makes several products that allow users to track exercise by linking to Apple's iPods or iPhones. In February, Fortune reported that about 5 million consumers worldwide use these systems annually. The new Nike+ Fuelband hit the market this year; preorders sold out within minutes.
$896

MILLION
TRIQUINT Independent analysts have found this chip maker's product in iPhones and iPads, and orders from Apple's key Chinese manufacturing facility accounted for about 35 percent of TriQuint's 2011 business. (The company reported more than $300 million in total revenues.) Apple appears to be responsible for the bulk of the manufacturing at TriQuint's 1,000-employee Hillsboro plant.
6,000

JOBS
APPLANDIA The Portland area has emerged as a leading center of mobile-application development, a field Apple essentially created with its iPhone and iPad. A recent study credited the app development industry with about 6,000 local jobs.
100

MILLION
INTEL INTRIGUE Apple and the world's largest chip maker have a complex relationship. At press time, many believed Apple was about to release a comprehensive update of its Mac computers, using Intel's new "Ivy Bridge" transistors—so small, at 22 nanometers, that 100 million would fit on the head of a pin. However, Apple also patronizes Intel's competitors, much to the Hillsboro-anchored industry leader's chagrin.
$250

MILLION
BUILDING THE PRINEVILLE SERVER FARM Apple will invest $250 million in building a vast data center in Central Oregon. Facebook's similar project, also in Prineville, temporarily employed 1,800 construction workers.
31

MEGAWATTS
GREEN ENERGY Apple—criticized by Greenpeace and other environmental groups for its energy consumption—promises to use all-renewable, locally generated power for the 31-megawatt facility near Prineville, which will consume five times as much juice as the Crook County farm town itself. Beyond green-energy purchases from local utilities, the company's plans aren't clear. At a similar North Carolina facility, Apple built its own solar array and uses biogas fuel cells.
700%

GROWTH
PANIC This independent maker of Mac-specific software started in the late '90s. At the time, Apple was a mere shadow of what it would become. "We're not genius businessmen," says Panic cofounder Cabel Sasser. "We just liked their computers and wanted to make stuff for them." The small firm has gone from two employees to 16 today.
$1.4

MILLION
MANNA FROM KICKSTARTER Designer Casey Hopkins's Elevation Dock for the iPhone has raised $1.4 million, becoming one of several Apple-reliant Portland products to garner cash from the popular "crowdfunding" site.
$5

MILLION
ADVERTISING Apple spends an annual average of $5 million on advertising for each flagship store.
$61

MILLION
ELECTRO-SCIENTIFIC INDUSTRIES According to media reports, ESI supplies micromachining lasers Apple uses in its manufacturing process. In its 2011 annual report, Oregon's most venerable tech firm (founded in 1944) states that Apple provided it with $61 million in revenue.
$27,000

PER

YEAR
HELP LINES At least three Oregon call centers provide Apple customer support. In recent years, the Bend location of TRG Solutions has advertised hundreds of Apple-related jobs. The average Oregon call-center worker makes about $27,000 a year. The company ACS provides Apple customer support at two locations, though it's unclear how many employees are involved in Apple-specific work.
$34

MILLION

?
PIONEER PLACE BONANZA Apple is notoriously tight-lipped, but local observers of the retail scene suggest that its 3,400-square-foot current store at the downtown mall is the metro area's most successful retail space by a large margin, raking in as much as $10,000 per square foot per year.