Desirables
Pendleton Goes to the Pool
Now you can cover up and dry off with Pendleton towels for beach, bath and beyond.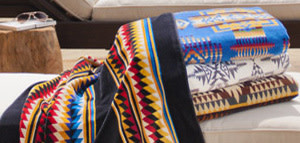 Pendleton is one of those truly Oregon brands. You can barely set foot in the state without knowing the company is native to Oregon, a sixth generation family business that began in 1863 and still made here in, yes, Pendleton (Washougal, Washington too). You see the Native American-inspired blankets in humble mountain cabins and hip urban photo shoots for shelter magazines. They became a brand the natural way, over the past century plus –before people went to school for brand management.
Pendleton became an icon of made-in-Oregon for a lot of good reasons, including high quality, long lasting products. The blankets are the epitome of this, but now they're joined by what might be a new basic luxury: the Pendleton Spa Towel.
The towels come in some of the same dynamic, original patterns as the treasured blankets. And, sized at a generous 40″ × 70″ that is highly versatile and wrapable, made of cotton velour sheared on one side and looped on the other, they promise to be just as treasured and probably passed on from one generation to another.
Bath towel sizes (30″ × 58″) are also available, and of course accompanying hand towels. Several designs have been created for each type, most of them inspired by the blankets. Priced at $48, $38, and $22, they are much less expensive than the blankets (which run in the two hundreds) and thus would be perfect as a gateway to the Pendleton heirloom!
Pendleton Woolen Mills are one of those Oregon brands that began existence before brands were even talked about – or were what ranchers did to cows.