Free Stuff
Urban Waxx Giveaway
Want to go stubble free (for free)? Enter our giveaway.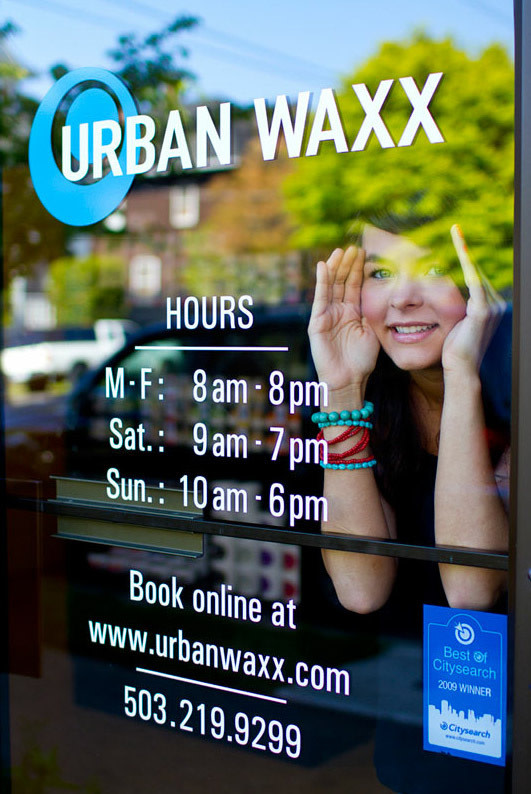 As we all inch a few steps forward to (shudder) swimwear season, it's time to get real about the proper preparations for it. Besides the exfoliating, buffing and pedicure painting, there's the ugly issue of hair removal. You basically have three options: you can let it all hang out (the Sasquatch route), shaving (cheap, but stubbly), or you can bite the bullet and go with waxing.
I subjected myself to a little research for my readers last week after hearing repeatedly that the ladies at Urban Waxx locations could make the potentially embarrassing and uncomfortable situation as pleasant as could be. I headed to the shiny, just opened, location on SE Division to see if it was true.
After being offered a complimentary glass of wine and magazine in the sunny waiting room, I was introduced to my bright and bubbly esthetician, Alex. As she carefully shaped and trimmed my brows into arched perfection, she calmed my nerves about the idea of having hot wax poured near my more delicate parts. Not only was she knowledgeable and friendly about the skin and the process, she informed me that last year Urban Waxx performed over 15,000 bikini waxes from basic to Brazilian. That's a whole lot of bare parts.
The main event itself was quick and efficient and Alex even managed to make me laugh. Was it a walk in the park? No would be the honest answer, but a week later and not a hint of thigh stubble, a couple of uncomfortable moments seem like a very small sacrifice. Especially if someone has a vacation on the horizon. And my brows even got a complement over the weekend.
If you're ready to take the jump (into a pool of hot wax), for your own summer preparations, Urban Waxx wants to help you get started. Owner Shannon Conley is offering a "Prepare for Summer" waxing package to one lucky Shop Talk reader (over 18). It includes a Brazilian bikini wax (aka The Whole Enchilada), an underarm wax and an eyebrow wax. You'll be ready to hop into that suit and frolic for days without a razor in sight.
CONTEST IS NOW CLOSED.
To learn more about Urban Waxx visit UrbanWaxx.com
Contest details: Winner must be over the age of 18 and will be notified via email on June 15. The offer must be used within one year or winning.