Fitness is Fashionable
30-Day Fitness Trial
What kind of results can you get in a thirty day boot camp?
Ahhh summer, the time of year you enjoy trips to the river, lazy window shopping walks and backyard BBQ's. It's also the time of year that you desperately wish you had let your mind fully grasp the amount of time you would be near a swimsuit and made proper preparations. But that time has come and gone and as with most of us who want to get in better shape, we want results now, not in nine months from now. While logic (and any doctor) will tell you that slow and steady wins the race, I decided to take the plunge for another 30-Day fitness trial to jumpstart what time we have left of summer and see if I can lose some of that underarm waddle before tank top season is over.
To cattle prod my routine gym visits of 40 min elliptical training or a Zumba class (that don't seem to stop anything from jiggling no matter how often I go), I signed up for the Studio X Fitness X-Press Boot Camp. It's a 30-day program designed to get you enough results to keep you on your path towards toned and strong. It includes three hour long boot camp sessions per week at their SE Stark studio, nutrition tracking (read: accountability you're not eating bon-bons all day and claiming the program doesn't work), plus a series of body measurements at beginning, middle and end to have hard results. At $140 for the whole thing it amounts to less than $5 a day, which seems incredible reasonable for the amount of attention you receive.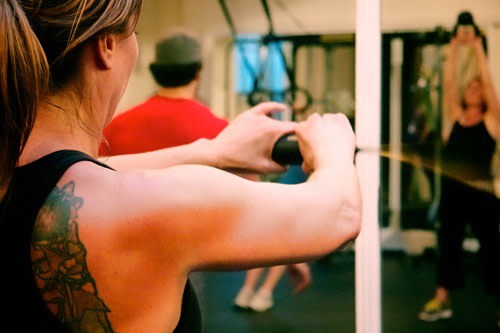 I've just finished week one and let's break down the good and the bad. First, the bad. Well, despite being a reasonably active person who walks a lot, hits exercise classes and the treadmill; I discovered I am a weak little kitten. The class sizes are so small (I've had between 4-8 people) that you can't hide and the instructors work you… hard. I balanced on a wobbling plank while in squat position lifting weights and wanted to throw up. But, I didn't and finishing out a class like that makes you feel like you could tackle a bear. I also "might have been" so sore after the first class that I cried briefly trying to climb the staircase in my home. But, as with all hard things, the more I've gone, the less sore I've been. Additionally, some people find the idea of tracking food annoying, but I'm a longtime food tracker (Hey, it's the best way to watch the champagne and sugar intake) and don't mind at all jotting it down into the iPhone app they use for studio owner Tim Irwin to send you emails praising your good decisions and making suggestions for the bad.
Now let's talk about the good. The instructors are amazingly attentive. They'll give you alternate moves if you have a bad knee or shoulder, they stand behind you pushing you to keep tossing that medicine ball when they see you're giving up and they'll stay after to show you how to stretch a sore muscle or talk about great protein sources. Additionally, while the scale isn't my main concern (the overly wobbly parts are), I've lost 3 lbs. in the first week and slept better than I have in a year, which is a bonus I'll gladly take. I'm heading into week two and at the mid-way point it'll be time for the second set of measurements to see if this love handle really is shrinking or I'm allowing my delusions to take over. We'll just let the numbers do the talking there.
To learn more about the Studio X Fitness 30-Day program visit Studioxfitness.com
Studio X Fitness
2839 SE Stark St.
Portland, OR 97214
(503) 236-7114