Happenings
Clair Vintage Turns 5!
Celebrate local fashion with a big bash.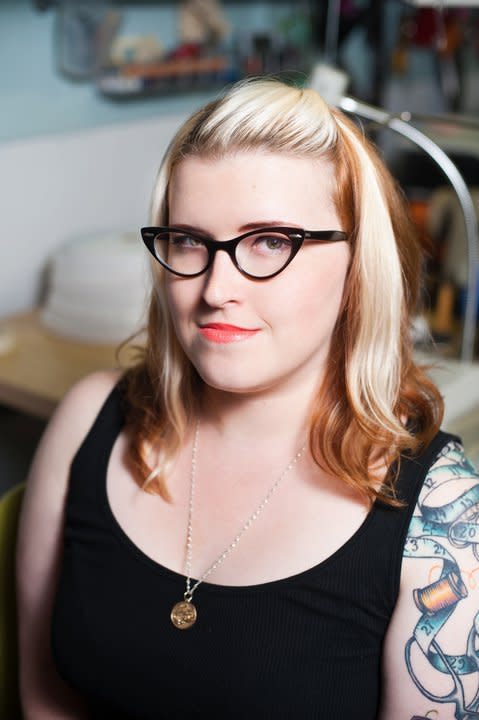 Holy cow we've got a big birthday in our fashion community! Clair Vintage Inspired celebrates five years of making pretty dresses tomorrow night with a bang. A big party at The Fez Ballroom with dancing, cupcakes, raffles and music all night long. If you want to get in the door for free, head there between 9 and 10 and use the secret password at the door – it's "mongoose".
We caught up with the head of Clair Vintage, Miss Alyson Clair herself to talk about the big birthday.
Eden Dawn: What was the highlight of the five years?
Alyson Clair: It was, and still is, seeing people on the street wearing my clothing. That excites me to no end, and I love seeing how people style it with their wardrobe. I really enjoy creating things. Getting something out of my imagination into an actual object never gets old.
E.D: Do you remember your first sale?
A.C: Yes! It was a woman who saw me walk by with a No Muffin Top Skirt on, and followed me into the shop I was doing a trunk show in. She bought an entire outfit and left wearing it, and was so excited about the clothes.
E.D: Any design you look back on and wish it would go away?
A.C: There are always those! I had this yellow shirt from a collection I did in 2008. It would not die; I swear it was multiplying in my studio. Thankfully, there are lovely sale events like Bargain Hunting. I listen to my gut a lot, and always end up dropping things from a collection each season that aren't working. (again thank you Bargain Hunting!)
E.D: What are some goals for year 5?
A.C: Keep making pretty dresses, and expand to more stores nationwide. I love this city so much, and am proud to call it my home. I'm changing up my branding to "Proudly Made in Portland Oregon", and I want to continue to draw attention to USA made goods.
E.D: Any advice for starting out designers in town?
A.C: Take care of your back! Seriously, stretching is your friend if you are doing tons of cutting and sewing. I've been in physical therapy twice for not being nice to my back. Also know what you don't know, and know when to ask for help. I have met some of the most fantastic people getting help with things like branding, website and photography.
Clair Vintage Inspired Birthday Party
Friday, July 13
9pm-2am
The Fez Ballroom
9-10 free entry with password: mongoose.
$5 after 10pm.
Raffle Prizes from:
-Clair Vintage Inspired
-Ms. Wood
-Rein Jewelry
-Bonne Vivante Beauty Lounge
-Plume Jewelry
-Bridge City Mercantile
-Carolyn Hart Designs
-Hubris Apparel
-Consign Couture
-Adorn
-Marissa Vaden Hair Stylist (at Salon Capelli)
-Kira Pinksi Hair Stylist (at Salon Capelli)