Q & A
Q & A with Photographer Jon Duenas
A peek at some of our fashion photog talent.
Our fascination with Portland's intrepid fashion photographers continues. In the past we've written about youngster Nicholas Wilson, had a Q & A with Natasha Estelle and now we turn the spotlight onto Jon Duenas. The former Texan turned Oregonian uses his fine art and fashion background to create beautiful and balanced artful images. He eschews some of the modern age by capturing his subjects with film using a collection of 35mm, medium format, and Polaroid cameras.
You can see new pieces of Duenas's work at his month long exhibit at Haunt which begins with an opening reception this Friday from 6-9pm. But before you pop by, catch up on our quick Q & A about Portland, fashion and photography.
Eden Dawn: What makes something a fashionable photo to you?
Jon Duenas: To me the best fashion photos are ones that make you feel something more than "Oh I like what she's wearing," and then make you think, "I want to feel this way again."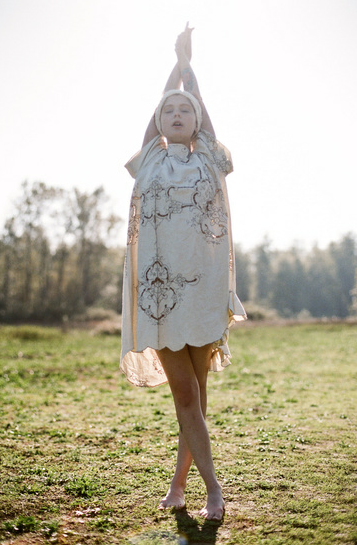 E.D: Who are some of your favorite fashion photographers?
J.D: For the big names, probably Paolo Reversi and Tim Walker. Some lesser knowns would be Julia Galdo, Aaron Feaver, and Mariam Sitchinava. I could probably list more, but I'm terrible with names, and I usually get more of my inspiration from fine art portrait photographers I find online.
E.D: What designer do you wish you could work with?
J.D: I've been doing a lot of bridal stuff lately since I also shoot weddings. So, on my wish list, I think working with Claire Pettibone is pretty high up there.
E.D: What do you think is different about the fashion city in Portland versus other cities?
J.D: I wouldn't say I've had a ton of experience in the fashion industry in general, let alone Portland. So having a lot to compare it with is tough. But to me it feels like Portland fashion is, for lack of a better word, "real". To be honest, I'm not sure I'd fit in at all in New York or LA. But here, it feels different. Unpretentious.
See more of Duenas' work at jonduenas.com. He is available for both fashion and wedding photography.