Happenings
The Pink Carpet Project
A fundraising fashion show for the books.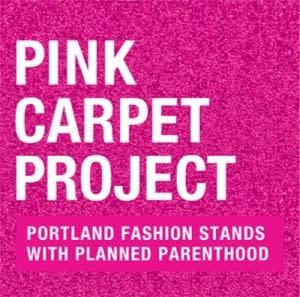 The Pink Carpet Project is a fashion show for women, by women. Producers Cameron Levin and Grace Kelly (good name) feel deeply that women should have access to healthcare through Planned Parenthood. When the Susan G. Komen foundation announced in February they were going to cut funding to Planned Parenthood's preventative clinical breast exams to uninsured women, Levin and Kelly decided to not get mad, but get moving with a fundraising fashion show to support those breast exams.
The first PCP show kicked off in Seattle in March to great success and though Komen eventually reversed their decision the continued other attempts to defund the organization prompted Levin and Kelly to bring the event south to Portland where they hoped to find designers that supported women's issues as much as they found in Seattle.
And did they ever.
The Portland version of the Pink Carpet Project to fundraise for Planned Parenthood takes place on Thursday, August 9 at PNCA's performance space. Thirteen designers will participate while my fellow fashion writer/bff Marjorie Skinner from the Portland Mercury and I will emcee the show together. Participating designers include some of our favorite locals as well as some guests (including Lisa Vian Hunter, featured on NBC's "Fashion Star"). Beyond the fundraising element, this looks to be an all out smashing good time. So pay attention lovers of fashion, women's health or both, you should buy your ticket now. Rumor is they're selling fast.
When: Thurs, Aug 9th, 8:00pm
Where: Pacific Northwest College of Art
1241 NW Johnson Street
How Much: GA $20/VIP $75
Click to Purchase
Designers:
Brady Lange
Cameron Levin
Clair Vintage Inspired
Chicago Harper (Joshua Buck)
English Department
Ilha Swimwear
Lisa Silveira, Wandering Muse
Lisa Vian Hunter, featured on NBC's "Fashion Star"
Reif (Lindsey Reif)
Ruki (Melanie Parr)
Saint Elyns
Sharon Blair, owner of Portland Sewing and SKPDX
Tiffany Bean (Mabel and Zora)
For more info visit The Pink Carpet FB Page

The video of Seattle's PCP show in March.