Beyond the Bridges
Alpine Penthouse
In winter, a Mount Hood fire tower becomes a cozy (and affordable) vacation cabin.
IN SIX YEARS of Colorado living I strolled around a lot of mountain towns that, during a snowfall, were quaint enough to impart the feeling of being inside a snow globe. But frankly, none of them compare to what my wife, Elizabeth, and I are experiencing on this April day. With a blizzard swirling around us, we're cross-country skiing to a secluded wilderness retreat in the Mt Hood National Forest. This is no ordinary inn, though. The room that awaits us sits 40 feet in the air and commands a 360-degree panorama of snow-covered treetops, high-country lakes, and rugged Cascade peaks.
The sweeping vistas come courtesy of a US Forest Service fire lookout called Clear Lake Lookout. Located near the Skyline Sno-Park, about 12 miles south of Government Camp, the tower sits on the crown of Clear Lake Butte, a gently rising 4,454-foot fir-specked hill on Hood's southern flank.
One of three such watchtowers on Mount Hood, Clear Lake (along with Flag Point Lookout 20 miles to the northeast) is still used by the Barlow Ranger District each summer to spot wildfires. From November to May, however, when the mountain is buried in snow, the cabin is rented out to the public.
Given Clear Lake's active-duty status and the fact that it's a relatively short 3-mile ski to the tower (versus an 11-mile slog to Flag Point), it seemed ideal for an adventurous winter escape. A one-night stay might cost my wife and me only $30, but we're paying in legwork: The trail to the tower climbs 900 feet.
Intermittent deluges of heavy late-season snow also make for slow going. Our packs, loaded with down sleeping bags and two days' worth of food, aren't helping either. Two miles in, we encounter three snowshoers returning from the tower. It's a welcome chance to catch our breath and hear what's in store for us.
"The views are amazing," one says while noting that the tower is a prime spot for scoping Hood's craggy summit.
An hour later, with my ski tips at the base of Clear Lake Butte, I understand their excitement. "There it is!" Elizabeth shouts. Just visible through a grove of firs, the lookout sits atop the hill like a giant tree house begging to be climbed. To our dismay, a mass of thick gray clouds also awaits. As we shuffle up toward the tower, fat snowflakes begin to fall—no picturesque sunset tonight.
Crunching up the tower's four flights of frozen steps gives me the sensation of being in an arctic wind tunnel. Near the top I unlatch the heavy trapdoor, which leads to the wooden catwalk that rings the tower. As I heave it open, the wind growls and flecks my beard with ice. If it were sunny out, we'd certainly linger on the catwalk. But here, high above the treetops, the horizontal snow blows directly into our eyes. We hurry inside and shut the door.
Each of the walls in the 14-foot-by-14-foot room is lined with at least six windows, hence the views. There's a bed, a small table, several chairs, and a propane range. A wooden podium where the on-duty watchman would place an Osborne Firefinder (an oversize compasslike device used to determine the directional bearings of smoke plumes) anchors the center of the room. And the bathroom? It's in an outhouse at the base of the tower.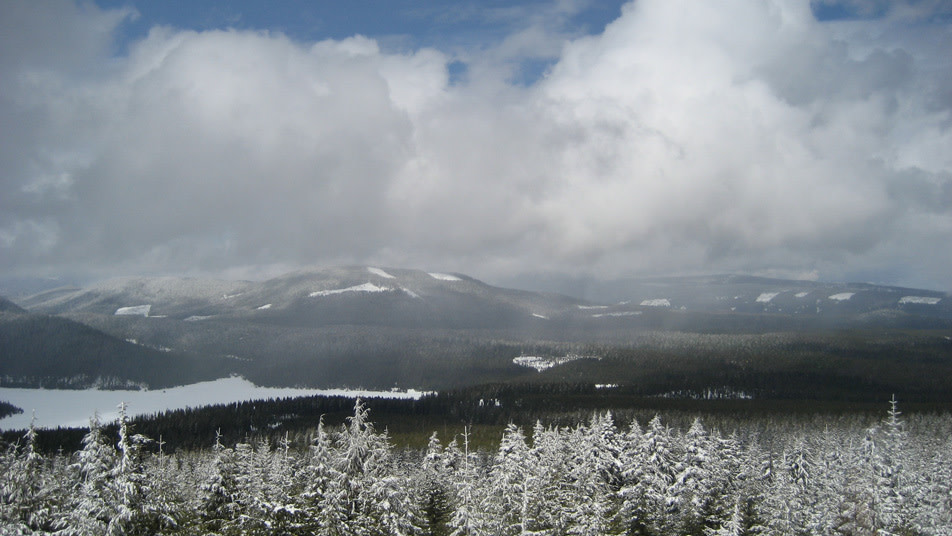 Insulated from the storm, I focus on building a fire. A supply of dry firewood lights easily in the cabin's potbelly stove, and the snug room warms quickly. "Isn't this cozy?" Elizabeth says, smiling. I take stock of our surroundings and agree.
Known as an R-6 Flat Top, a name that befits its boxy shape, the tower was erected in 1962 and is one of the last generation of Forest Service fire lookouts in the Pacific Northwest. The Civilian Conservation Corps built thousands of these wilderness outposts across the country beginning in the 1930s. They could be found in northern Maine, the piney woods of east Texas, and throughout the West. Oregon alone once had 805 lookouts, including one atop Mount Hood. By the 1960s, however, airplanes, helicopters, and even infrared sensors began to replace these earthbound defense measures. As a result, many lookouts were dismantled or abandoned.
An hour after I start the fire, the squall abates outside and the sun peeps through. Below us the frozen silhouettes of both Timothy and Clear Lakes shimmer against evergreen hillsides. Cards tacked above the cabin windows orient us by pinpointing the distance to dozens of faraway peaks: Thunder Mountain, 23 miles to the west; Olallie Butte, 23.5 miles south; Mount Adams, 60 miles to the north. Mount Hood also looms nearby, but clouds obscure our view of it.
We have our choice of side trips on close to 10 miles of cross-country trails, including a ski tour around Little Crater Lake, a deep spring-fed pool. Then again, a cloudy horizon makes sticking close to the cabin seem like a better idea. Besides, we're quite comfortable in our lofty perch—and there's work to do.
As Elizabeth cooks dinner, I head downstairs to the woodshed to fetch more firewood for the night. Stacked floor-to-ceiling with hundreds of enormous logs, the shed is the perfect place to let loose my inner Grizzly Adams by taking a few mighty swings with a wood-splitting maul. (Trust me, these were mighty swings.)
Back up top, I notice snow accumulating along the catwalk railings. The sky is pitch-black, and chilly gusts bat against the windows. The tower's timber creaks and moans like the hull of an old ship. Suddenly, I recall a warning from the Forest Service: The tower may sway in strong winds. But seated next to the crackling fire, I don't feel a thing.
Before cocooning ourselves in our sleeping bags for the night, Elizabeth asks me to read the tower's logbook. Some guests have left helpful tips, like noting that a knife comes in handy for jiggling the woodshed door open when it's frozen shut. One warns of "camp robbers," which turn out to be hungry blue jays that swoop in to steal bits of food.
The last entry I read was written by a woman who makes an annual ritual of skiing to the lookout. She was especially happy on this occasion: Besides commemorating her 49th birthday, she was celebrating the fact that her 9-year-old daughter could finally ski in without needing to be towed on a sled. Both were looking forward to many return visits. Drifting off to sleep, I decide I am, too.