Beyond the Bridges
Sayulita Is Mexico's Hush-Hush Resort Town. Get There Before the Word Gets Out.
Sayulita, a tiny village of 2,500, still feels like one imagines it did during the 16th century, when the Spanish first happened upon it. Even the Mexicans began settling it only in 1941.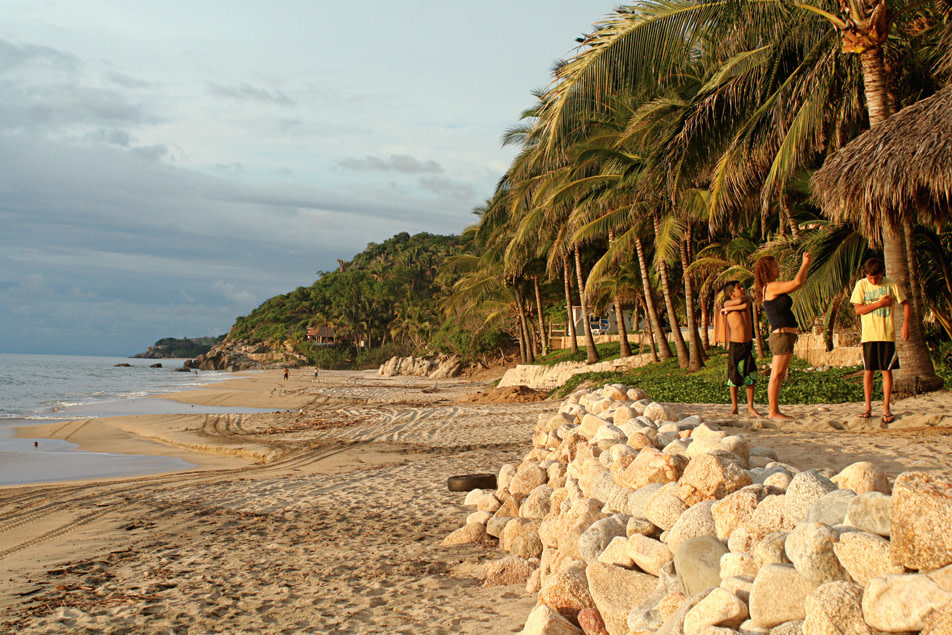 SCRAMBLE PAST A SIMPLE WEATHER-BEATEN HEADSTONE that reads "Bob, Gone Surfing," wiggle around another ornate pink gravestone sporting a glassed-in reenactment of the crucifixion, climb over a rocky incline, then push through two gargantuan palm leaves. Right there, where waves the color of Paul Newman's eyes crash against monolithic black rocks in a tiny secluded cove, the sheer knee-weakening beauty of Sayulita—one of Mexico's best-kept secrets—reveals itself like a fist uncurling to offer up a daisy.
Amid all this wild sensory ecstasy, the first thing that came to my mind was: God, this is such a better place to spend a honeymoon than Arkansas.
You see, the new wife and I were broke. Our wedding in Central Oregon had left us with a hemorrhaging bank account. We were forced to relinquish any hopes of an extravagant postnuptial getaway. In fact, things got so dire that, at one point, flying back to the South and spending a week in my parents' guest room seemed like the only viable option.
And then, salvation. A family friend offered us the shiny keys to his small villa in Sayulita, a Mexican beach town we'd never heard of. We asked no questions. All we knew was that the place was hot, coastal, and decidedly not Arkansas. Good enough, we said.
But as our bus from the airport yanked free of the urban sprawl of Puerto Vallarta and plunged onto a twisting jungle road, my wife and I breathed sighs of relief. "Good enough" was quickly becoming "awesome." We were off the beaten path. And not a Señor Frog's in sight.
Sayulita lies on the Pacific Coast of Mexico, less than an hour north of Puerto Vallarta. Yet despite its proximity to such a massive tourist hub; despite being lauded as the next "it" destination by the likes of the New York Times and Travel & Leisure; and despite the handful of ATMs and sit-down restaurants scattered throughout town, the tiny village of 2,500 still feels like one imagines it did during the 16th century, when the Spanish first happened upon it. Even the Mexicans began settling it only in 1941.
Today, hedged in by a thick jungle on one side and the vast Pacific Ocean on the other, it's a place you have to want to get to. Thus the rustic retro vibe. Long rows of adobe villas and businesses line bumpy cobblestone lanes. Shirtless fishermen farm the coast for mahi-mahi; street vendors hawk their wares at all hours; dogs scamper about in dusky alleys and backstreets; and the palm-lined town square is a staging area for weddings, funerals, and everything in between. Here you feel like an explorer, not an interloper.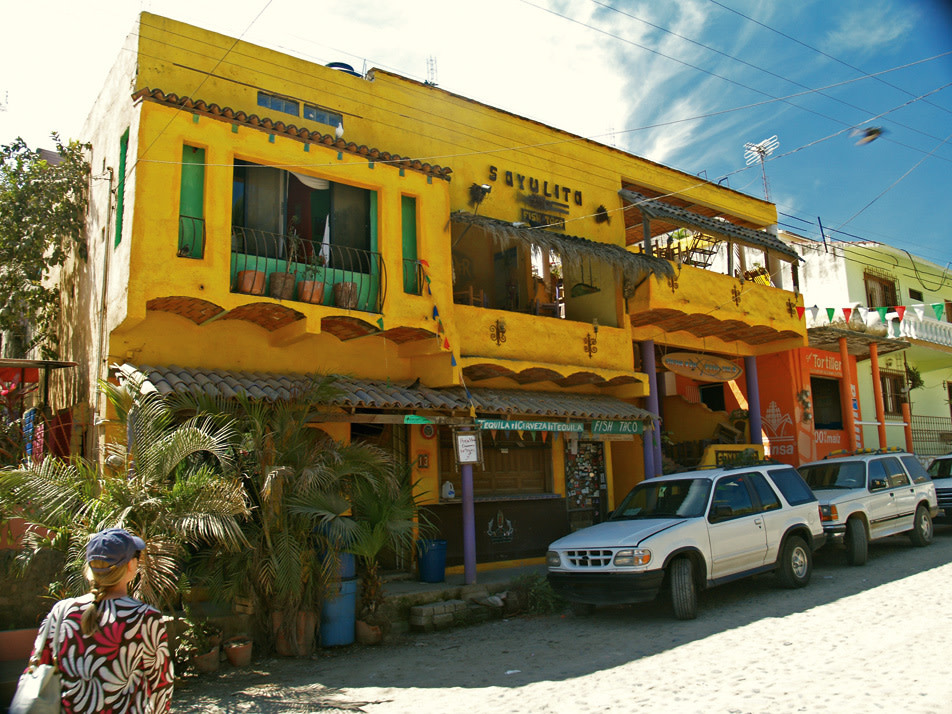 Beneath Sayulita's rugged exterior lies the kind of naturalist's playground that will have typical Oregonians tightening up their Chacos. There's horseback riding along deserted beaches, machete-in-hand hiking on Monkey Mountain, mountain biking along jungle single-track, watching for newborn humpback calves, or fishing for giant marlin, Hemingway style. The only real sign of modernization in the sleepy town is the handful of realty offices put in place to capitalize on the expats who keep settling here in larger and larger numbers. Among them is a couple from Bend, Ian and Kerry Hodge; they run one of the more trafficked Sayulita websites, SayulitaLife.com, which specializes in vacation rentals.
But make no mistake: surfing is king in Sayulita. Since the 1960s, when Highway 200 was completed, road-tripping Californians have plied this mile-long notch in the Riviera Nayarit, flocking in when the tide is right or making the place a second seasonal home. You won't confuse these waves with the towering curls off Hawaii's North Shore, but they are consistent enough to make them the perfect training ground for beginners and salty pros alike.
If you've watched enough Shark Week specials to know that from underneath the board, a surfer can look like dinner, stick to the beaches. They're unlike anything we have in the States. The sand is flaked with tiny slivers of gold-colored ore dredged up by the constant churning of the ocean floor, turning the beach into jewelry and the water into a giant, roiling tub of Goldschläger. It's a glittering spectacle you won't tire of watching.
In other words—pardon the New Age-ism—Sayulita is a great place to just be. Because as thrilling as it is to watch a well-bronzed surfer zip through the heart of a wave, or to see the fishermen in their angular panga boats heading back home on the horizon with another scaly haul, sometimes the most pressing concern revolves around finding the best spot in which to remain horizontal, burn your pale hide, and research which beachside bar has the largest piña colada. Besides, from a reclining position it's much easier to study the cat-size iguanas as they battle screeching toucans and parrots for supremacy in the trees, or to watch the ravenous pelicans and frigate birds swoop into the ocean for a meal. And why would you want to venture far from the aromas wafting from Burrito Revolución, a Sandinista-themed shack where a friendly local grills fresh marlin burritos?
When you do feel compelled to move, it's quickly apparent why this place inspires such feverish devotion. For instance, a walk along a narrow jungle path that we found on an outdated map turned into an epic journey of discovery as we pushed through yucca leaves rising beneath the parota trees and suddenly came upon a forgotten graveyard. The electric hues of the memorials—bright pink and aqua-blue granite headstones dotting the jungle floor—instantly recalled Mexico's flamboyant Day of the Dead celebrations.
The instinct never to tell a soul about our discovery swelling in our hearts, we pushed past the graves and crested a small rise to find the Pacific, gold water slapping against gold sand as the setting sun laid a sparkling sheen across the ocean. We leaned back against a warm rock and pulled out a couple of warm beers and a slice of homemade chocolate flan we'd bought from a grandmotherly street vendor.
Paradise found. Disaster averted. Two thousand miles southwest of Arkansas.