Mudroom
Electric Avenue
As the electric car industry revs up its engine, Portland looks poised to lead the charge.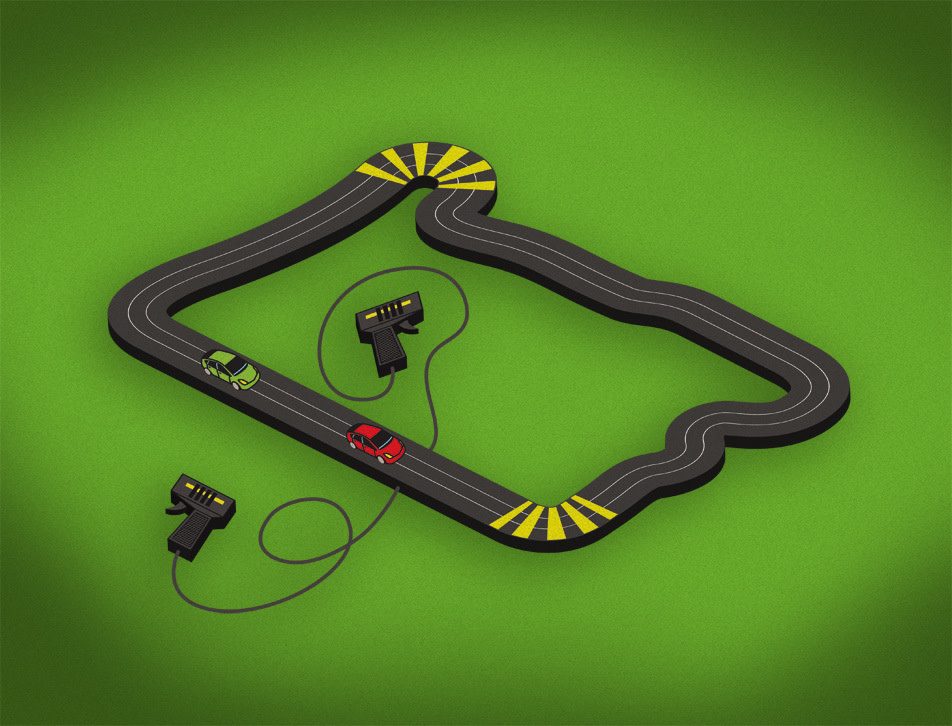 A DRAB PARKING GARAGE across the street from a McDonald's is an odd place to contemplate the potential of human ingenuity. But on a rainy spring day, George Beard unplugs a power cord connecting a white Toyota RAV4 to the wall, throws the SUV into reverse, and, in total eerie silence, we back into the possible future of transportation—and potentially Oregon's economy—taking care not to hit any concrete pillars.
The 59-year-old former Oracle executive has become the electric-vehicle guru at Portland State University, which maintains a mini fleet of four electric-powered RAV4s. At eight years old, Beard's RAV is not particularly futuristic, but this all-battery ride exists, basically, to convince people not to be scared of cars powered by the local grid rather than Saudi sheiks or disaster-prone Gulf oil rigs.
"Our primary objective with these vehicles is to give people firsthand experience," Beard says. "And they invariably discover that, hey, it ain't no big thing."
For now. Beard, PSU, the city, the state, regional businesses, and fans of polar icecaps hope EVs, as they're called, become a very big thing indeed. The long-range EV dream is a carbon-free renewable grid to plug into every night (albeit, the grid Beard's plugging into is supported in part by the coal-incinerating Boardman power plant) and a national infrastructure with recharging stations every 100 miles or so. No small task.
Whether EVs turn out to be the new paradigm or the new Betamax, Portland and Oregon are at the vanguard. This spring, Oregon became one of five states involved in a $98 million stimulus-funded project to install hundreds of EV charging stations in the state and monitor users' driving habits. Not coincidentally, Portland is among the launch markets for both Nissan's cute new all-electric Leaf and Toyota's plug-in version of the iconic Prius hybrid. And Portland State will essentially act as the global carmakers' local research arm, assessing the performance of the new products.
While no one has yet ventured a quantifiable guesstimate of what a place at the head of this formative pack could mean, the potential economic and societal effects of wide EV adoption aren't that hard to imagine. Driving Beard's RAV around town costs about one-third as much per mile as driving a "wet fuel" car. Beyond savings, Beard argues there is a potentially huge payoff for Oregon in manufacturing and design as a whole new EV service industry takes shape. (Think solar cells and streetcars.)
That's why competition for EV street cred is fierce—especially among Portland's perennial green frenemies like Seattle and Vancouver, British Columbia. Seattle, for instance, plans to install 2,550 charging stations, and Vancouver now requires all new residential construction to include charging equipment. Places with legacy industrial infrastructure and workforces are also in the game: Indianapolis recently pipped Oregon and other suitors for the North American base of Norwegian EV manufacturer Th!nk. And flashy Tesla Motors just announced a $42 million deal to acquire an idle Toyota plant in California.
But Portland has some formidable advantages. Ye olde '70s urban-growth laws have given the city a dense, compact footprint that lends itself to shorter-range transport. As an epicenter for all things green (thank you, Vestas, SolarWorld), we have the brain trust to support the infant industry. And we came in on the ground floor: back in 2008, a three-day national seminar on EV potential brought the industry's leading thinkers to town.
"Portland has been setting up community support and getting institutions on board from early on," says Tripp Hyde of Boulder, Colorado's Rocky Mountain Institute, which organized the 2008 meeting. "As more charging stations appear, the city will be in a very good position as one of the national leaders."
Plus, as a state, we've already got the goods: Arcimoto, a Eugene start-up firm, plans to roll out its two-seater Pulse this year. The spry-looking little run-about is designed for short trips—and to shake up transportation in decidedly Oregon-ish ways. "EVs are able to be built on a smaller scale succesfully," says Arcimoto's Jeremy Bronson. "So it's easier to imagine them being designed and manufactured close to where they're used."
This may all seem a little dreamy and speculative, but as we zip around town, Beard and I encounter a much more immediate argument for EVs. Just north of the Broadway Bridge, a beat-up Honda Prelude with Washington plates pulls in front of us, disgorging pungent clouds of black smoke.
"Whatever the future holds," says Beard, with an oh-what-a-world gesture at the Prelude, "you've got to think it's going to be better than that."