Trail of the Month
Cape Horn
Activity: Hiking | Distance: 7 Miles | Rating: Moderate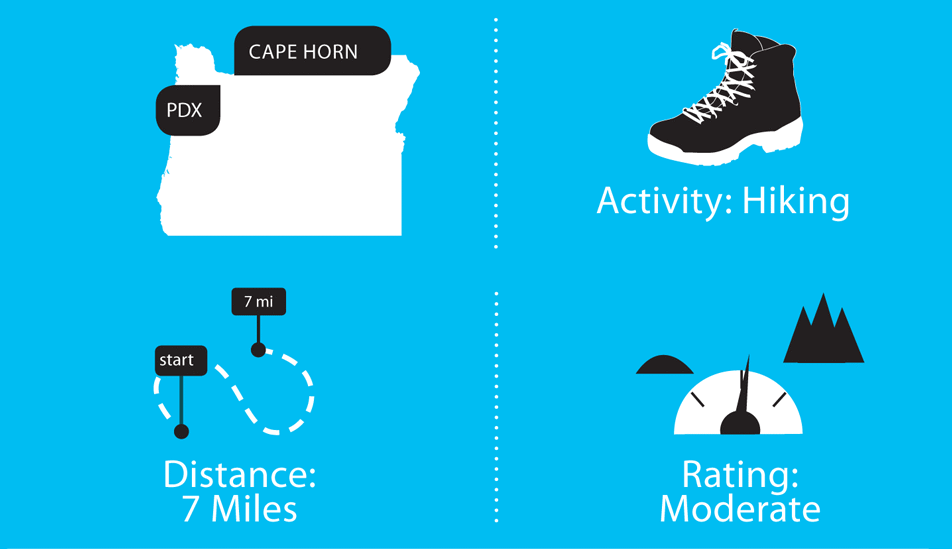 WHY IT'S GREAT Barely 25 miles from Portland, Cape Horn provides some of the most awe-inspiring sights in the Columbia Gorge. Late this summer, the largely volunteer-built path on the Washington side of the Gorge saw big-time improvements. The most stunning is a circular stone overlook placed near the 1.2-mile mark to commemorate the trail's—and the Gorge's—most fervent advocate, Nancy Russell, who founded Friends of the Columbia River Gorge and spearheaded congressional support for the federal scenic area on both sides of the river. Atop 2,000-foot-high Pioneer Point, the viewpoint marks the very spot of Russell's successful campaign against a subdivision that threatened to wall off the entire scene. Hikers can also rejoice over the addition of two pedestrian tunnels on the trail's lower portion, allowing safe passage beneath a narrow, curvy section of WA 14.
DON'T FORGET While Cape Horn remains hikable year-round, dustings of snow and icy patches can make some steep pitches difficult to negotiate. The lower portion of the Cape Horn Trail is also closed from February 1 to July 15 to protect nesting peregrine falcons—all the more reason to get out here sooner, rather than later.
POST-HIKE WATERING HOLE Big River Grill This longtime downtown Stevenson haunt is adept at warding off November chill. On the menu, find BLTs with thick slices of bacon and better-than-they-have-to-be salads topped with an addictive tomato-basil dressing; on tap, Walking Man Brewing ales from just around the corner. 192 SW Second St, Stevenson, Washington; 509-427-4888; bigrivergrill.us
TRAILHEAD DIRECTIONS From Portland, take I-5 north to WA 14 and head east to milepost 26. Turn left on Salmon Falls Road and look for the trailhead in the Park and Ride lot on the right. No fees or permits required.