Snow Report
What's New on Mt. Bachelor?
Bend's signature ski resort gets a $3.5 million facelift (and 30 inches of new snow).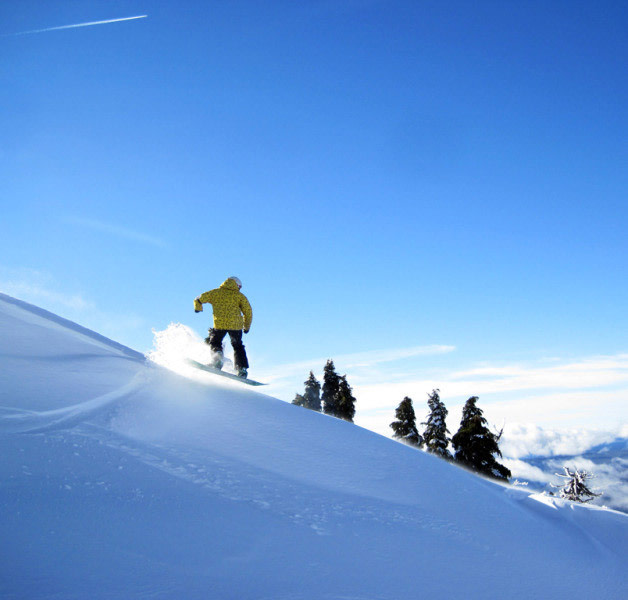 Even with the addition of three new grooming machines, Mt. Bachelor couldn't keep up with this week's powder pile-up. The resort reports most runs appear ungroomed. Once the howling winds and storm conditions calm down, those extra inches offer all the reason you need to check out Bachelor's newest features.
On Mountain
TERRAIN UPGRADES: Bachelor's three new groomers include two Prinoth Bison X's. We'll spare you the gearhead gadget-speak about what makes these state-of-the-art machines so sweet. What it means for you: better designed and shaped terrain park elements.
LIFT LOVE: Mechanical upgrades to Bachelor's high-speed chairs (think Skyliner and Summer, for example) mean smoother rides and fewer stoppages.
NEW RIDES: Beginners can test drive Bachelor's fleet of new rental and demo snowboards through the resort's Learn to Ride Cener and Progression Parks programs.
Off Mountain
PUT THE TOP DOWN: Seattle's Safeco Field isn't the only local spot with a retractable roof. Sunrise Lodge's new Sun Bar, a heated, circular bar with (removable) glass windows, boasts a retractable umbrella ceiling for Bend's 300 plus sunny days. Underneath, there's room for you and 60 of your friends.
APRÈS YARD SALE: Shaken up from your wipeout on The Cirque? Pine Marten Lodge's new beer and wine bar has what you need to steady your nerves: a selection of reds and whites and local micros from Deschutes and Cascade Lakes.
DO GOODERY: Bachelor hopes a new solar array installed on the Bend office and bus garage will generate enough electricity to power the Carrousel beginner lift.