Snow Report
8 Reasons to Love Mount Hood
From moonlight snowshoes to slope-side saunas, winter brings myriad reasons to swoon over our signature peak.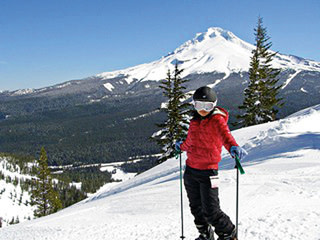 1

YOU

OWN

THE

MOUNTAIN
Gather up your ski buddies and rent out the east side of Mt Hood Skibowl as your private kingdom for the night. The Cascade Chair, accessing eight runs, is your throne; the tubing hill your jester's court; and the rustic Multorpor Lodge, with its traditional Old World fare and mighty stone fireplace, your palace. It's good to be king. Rate negotiable.
2

BECAUSE

SNOW

GLOWS
When moonbeams bounce of off new fallen snow, the forest is as bright as day. See for yourself along the easy 1.5-mile snowshoe to Mirror Lake at the base of Tom Dick and Harry Mountain near Government Camp. Green Trails Map no. 461, Government Camp
3

UNBEATABLE

APRÈS

EATS
Scene 1: you're dominating the slopes at Mt Hood Meadows, but the sunlight is fading, and a dank chill has punctured your parka; it's time to call it a day. Scene 2: you lounge fireside at the Alpenstube Loft in the South Lodge, a rosy hue spreading across your cheeks as you greet the Mt Hood Lava Flow—a helmet-size brownie oozing with Tillamook ice cream, chocolate sauce, and hazelnuts, served in a hot cast-iron skillet. Curtain.
4

YOU

CAN

CHOOSE

YOUR

OWN

ADVENTURE
If it involves snow, ice, and mountains, odds are Oregon Peak Adventures, Mazamas, and Timberline Mountain Guides can lead you up, around, or into it, from family-friendly Nordic lessons to full-on winter survival classes. In other words, these guides might be the only people who love winter more than you.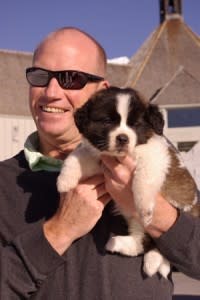 5 ST.

BERNARDS

RULE
?An infallible truth: everyone loves puppies. Last January, Timberline Lodge welcomed new Saint Bernard mascot Heidi, a then-65 pound puddle of fur who wasn't much interested in posing for pictures (see the adorable video above). This Christmas, 8-week-old Bruno (left) joined the Timberline family. And he's already had his first close-up.
6

SUMMER

ISN'T

THE

ONLY

CAMP

SEASON
Windell's Ski Camp is renowned for its summer programs on Hood. But its winter and spring free-ski, snowboard, and skateboard camps hold a distinct tactical advantage: smaller class sizes, with student-to-instructor ratios hovering around 5 to 1. Sochi 2014, here we come.
7

THINGS

CAN

GET

STEAMY
The Finns know a thing or two about riding out a long dark winter in style. Their secret? A good sauna. Embrace the Suomi spirit inside a six-person cedar sauna set just a few yards away from the 12 miles of cross-country trails around Trillium Lake. To indulge, you'll need to book a night at the adjacent three-bedroom Barlow Trail Cabin. Inside, massive windows stare up at Hood's summit. It's hard to imagine a better spot to watch the snowflakes drift down than in between the soothing clouds of steam next door.
8

PARENTS

CAN

SKI

GUILT

-

FREE
Meadows is one of a handful of ski areas in the country with its own state-certified, on-site day care—a 3,500-square-foot facility that cradles babes as young as six weeks old while parents hit the slopes ($25 an hour or $100 for the whole day). If you're still feeling guilty, sign your snow bunny up for ski lessons (ages 3 and up)—they'll be on your tail soon enough.