Getaway Guru
Stamps Need Not Apply
A Seattle company turns your snapshot into a postcard and mails it for you…all from your smart phone or computer.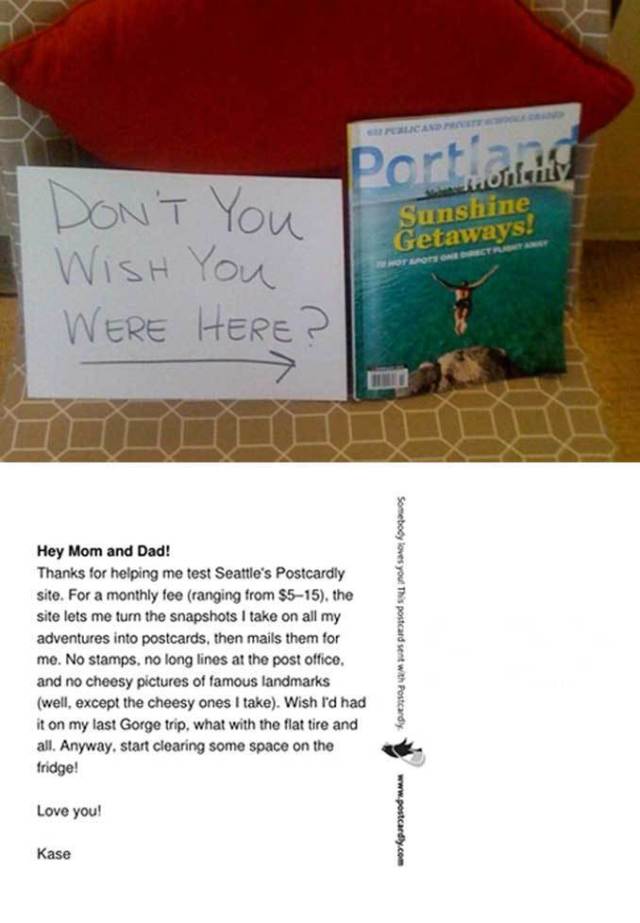 Back in our youth, we were perpetual postcard collectors: Ireland, Greece, Spain, France, cross-country drives with the family—if we'd been there, we had 4-by-6-inch piece of paper to prove it (and in the case of those family vacations the emotional scars too, but that's another story). The advent of Facebook and camera phones, though, has had a somewhat slimming effect on our postcard collection. Some might even call it starvation. Seattle-based Postcardly.com might just bulk it back up, though.

The new site makes it easy for travelers—or just the photo-obsessed—to send personalized postcards (like ours at left) to friends, family members, or coworkers whose noses you want to rub in your vacation glory—er—with whom you want to share your experience. Once you've set up your account (rates start at $5 a month for 5 postcards), e-mail your photo and message (up to about 100 words) to Postcardly, and they'll make the postcard and mail it for you.
Postcardly's current free trial lets you send three postcards sans fee. Even if you don't have any escapes planned, surely you can come up with some creative way to say (and shoot) "Happy Easter" and claim your own little piece of Mom and Dad's fridge.