Deals
Ride to Seattle for a Dollar
Heading north? New bus lines, BoltBus, takes Portlanders to Seattle for a buck.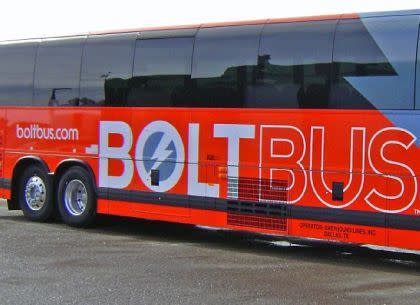 On May 17, Greyhound's hip sibling BoltBus debuts service between Portland and Seattle with fares as low a dollar (not including service fees).
This isn't bus service like you've known it, though: BoltBus comes with WiFi, outlets, leather seats, more legroom (thanks to 50 seats instead of the standard 55) and rewards for frequent riders (take eight trips and get a free one-way ticket).
Buses will depart from SW Sixth Street in Portland at 8:30 a.m., 12:30 p.m., 2 p.m. and 6 p.m., arriving next to Seattle's downtown International District Station roughly three hours and fifteen minutes later (traffic snarls notwithstanding, of course).
The Portland–Seattle line is Greyhound subsidiary BoltBus's first West Coast foray, but already appears to be making an impression as several dates have sold out. A few limited one-dollar fares still appear up for grabs, with the rest of the fares ranging between $1 and $13, plus transaction fees (typically $1).