Get Out!
New Canoe Trips in Central Oregon
Get a whole new view of Kah-Nee-Ta resort with guided half-day trips on Lake Simitustus.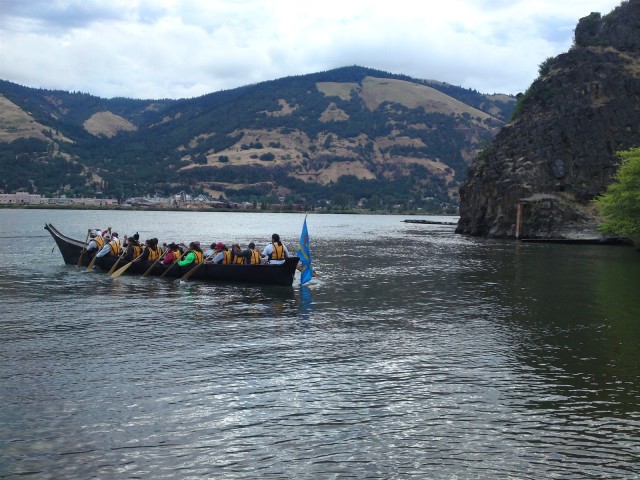 Only Native American tribal members are allowed to take part in the annual Canoe Journey—an intertribal celebration that, this year, will see more than 100 canoes from across the Pacific Northwest paddle to Squaxin Island in the southwestern Puget Sound. But this month, you can get a taste of this rich cultural tradition with Kah-Nee-Ta resort's half-day canoe trip along Lake Simitustus.
Guided by the leader of the Warm Springs Canoe Family, or "N'chi Wanapum," the four-hour trip take guests paddling along the lake's steep canyon walls in a traditional 18-passenger, 36-foot Native American canoe.
The new canoe trip is intended to provide a hands-on learning experience about the N'chi Wanapum people. As guests paddle along the flat and relatively easy waters of the lake, the guides will describe the history and culture of their tribe, including their efforts to keep ancestral connections to the Columbia River alive after being relocated to the inland Warm Springs reservation in the mid-1800s. The trip includes a lunch stop, and sharp-eyed canoeists also may spot eagles, big-horn sheep, and mule deer along the way.
Seats are limited, though; the only remaining trip is scheduled for June 30th, just before tribal members depart for their own arduous six-week journey north.
$199 per couple, $50 for additional family members
–Sara Gates