LOOK MA, NO HANDS
Simon's Springs
The Benson Bubbler turns 100.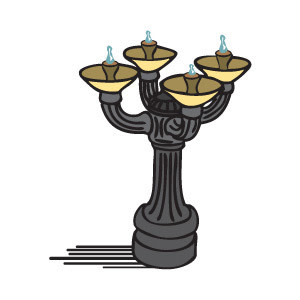 IN THE DOWNTOWN Portland of 1912, saloons and drunkards were plentiful. Booze-free chances to slake thirst were not. Into this gap strode Simon Benson, a Norwegian immigrant, timber baron, philanthropist, and teetotaler, bearing a four-headed bronze fountain.
According to one legend, Benson saw a little girl downtown on a hot summer day, crying with thirst. Other stories suggest he sensed an opportunity to reduce Monday-morning hangovers in his lumber camps. In either case (or both), Benson commissioned A.E. Doyle—the legendary local architect who designed the Multnomah County Central Library and the downtown hotel bearing Benson's name, among many other buildings—to create "an epitome in miniature" of his style that could burble Bull Run water around the clock.
A century after the first Benson Bubbler percolated, the ornate fountains remain some of Portland's most charming icons. Benson once mused, "What is the best investment I ever made? I think the fountains, for they helped knock the profit out of the saloon business. In other words, it means better citizenship."
Today, the Bubblers no longer flow 24 hours a day, year-round, but they do retain a patina of exclusivity. Only 52 "true" (i.e., four-headed) versions of Doyle's design bubble in today's Portland, mostly downtown. Two others stand elsewhere, at Maryhill Museum of Art and in Sapporo, Japan, a Portland sister city. Getting a new one is no small task. An interested party must identify a location, cover costs (which vary), and persuade the city, which has generally honored the Benson family's wish to keep them rare. (The most recent began to flow in 2005, on the Eastbank Esplanade.) The results may no longer serve goals of temperance, but the Benson Bubbler endures as a simple symbol of Portland's early days and a direct connection between the city's streets and the bounty of Bull Run.