Loot
Free This Weekend: Pittock Mansion, Portland Art Museum, Lan Su Chinese Garden
Bank of America offers cardholders free admission to top Portland spots this weekend.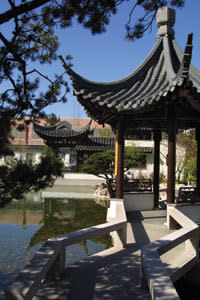 This weekend it pays to be a Bank of America cardholder. As part of the North Carolina-based bank's "Museums on Us" program, members can visit Portland's Pittock Mansion (typically $8.50 for adults), Portland Art Museum (normally $15) and Lan Su Chinese Garden (otherwise $9.50) for free Saturday and Sunday. All you need is your Bank of America/Merrill Lynch credit or debit card and photo ID.
Portland is just one of 91 cities participating in the program. So if you're out of town this weekend in, say, New York City, you can also score gratis entry to the Metropolitan Museum of Art or the Whitney. Or, if you're closer to home, stop into the Seattle Art Museum after you ride Pier 57's new 175-foot Seattle Great Wheel. (Note: the Great Wheel isn't part of the program; it's just new and neat.)
And if you miss out altogether, you'll get a second chance. Bank of America is offering the program August 4–5 and September 1–2.