Get Out
Pacific Crest Trail Oregon Day Trips
The second edition of local author Paul Gerald's Pacific Crest Trail guidebook lays out 28 ways to pick off smaller sections of the PCT.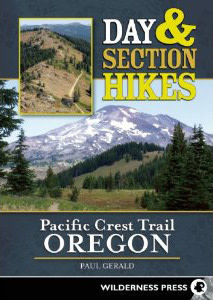 Paul Gerald couldn't have picked a much better time to release the second edition of his Day & Section Hikes Pacific Crest Trail: Oregon guidebook (July, Wilderness Press). With Cheryl Strayed's Wild landing at the top of the New York Times best sellers list (and Oprah's Book Club), the entire country seems obsessed with the PCT.
Of course, not everyone is obsessed with conquering all 2,600-some miles of the mountainous West Coast hiking route. Or able. Enter Gerald's guidebook, which outlines 28 options for tackling smaller pieces of the trail throughout the state, some day hikes, some single overnights or weekend trips.
Gerald's handily packable 200-page volume breaks down the hikes by region and by category with an easy to follow five-star scoring system that rates each hike on a number of factors: scenery, solitude, difficulty, trail condition, and child-friendliness. Looking for the prettiest piece of the PCT? Turn to page 52 for directions to the Crater Lake Rim Trail or page 86 for the Willamette National Forest's Obsidian Loop. If you're toting wee ones, the 6.6 forested miles between Rosary Lakes to Maiden Peak Shelter in Central Oregon are probably for you.
Each section comes with a detailed description of the hike, what makes it great, permit and fee info, and is accompanied by easy-to-read topo maps and GPS coordinates for each trailhead. Our only lament: the pictures that accompany each hike description are black-and-white.
Then again, the images provide just a bit more motivation to get out and see the places—in living color—ourselves.