phile under: TBA
Review: Small Metal Objects
Back to Back Theatre performs a secret delight in bustling Pioneer Square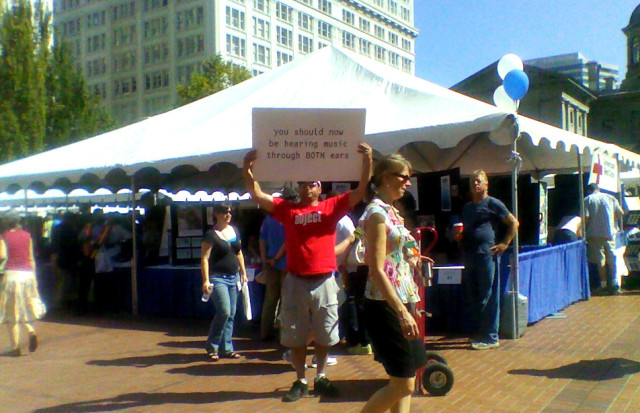 A confession: I'm show folk.
I got my degree by jumping out of a trunk in patchwork pants. Well, not LITERALLY. But there's an awful lot of shuffle-off-to-buffalo in my constitutional makeup, and though I'm not proud of it (or, really very good), I will MOW YOU DOWN for a grab at the karaoke mic.
So, I know that my reptilian fear of audience participation makes no sense. But there you have it. I'm terrified of actors who will drag me to the stage and make me do stuff.
And I was worried. WORRIED about the paralytic specter of audience participation in Back to Back theater's small metal objects performed at 12:30(ish) this afternoon in Pioneer Square.
Pioneer Square! Filled, on this gorgeous day, with a live band, a huge volunteer event—involving white tents and lots of earnest and unsuspecting do-gooders—and (little did they know), a TBA audience and a site specific performance given by a company of Australian actors who are "considered to have intellectual or developmental disabilities," as described in the TBA book.
Dear heavens, what will become of us all?
The art audience sat on the semi-circle of steps in the Square, placed there carefully by a phalanx of TBA volunteers, and put on head phones.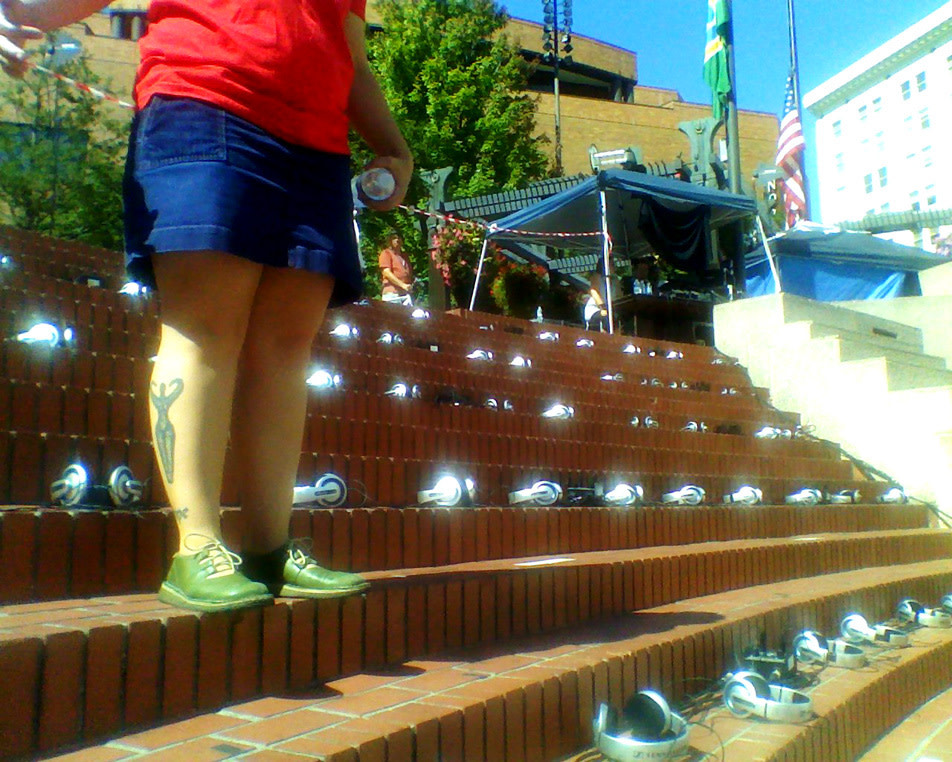 It was hot. My neighbors fashioned hats, I worried about coming back to the office with an avant-art-burn.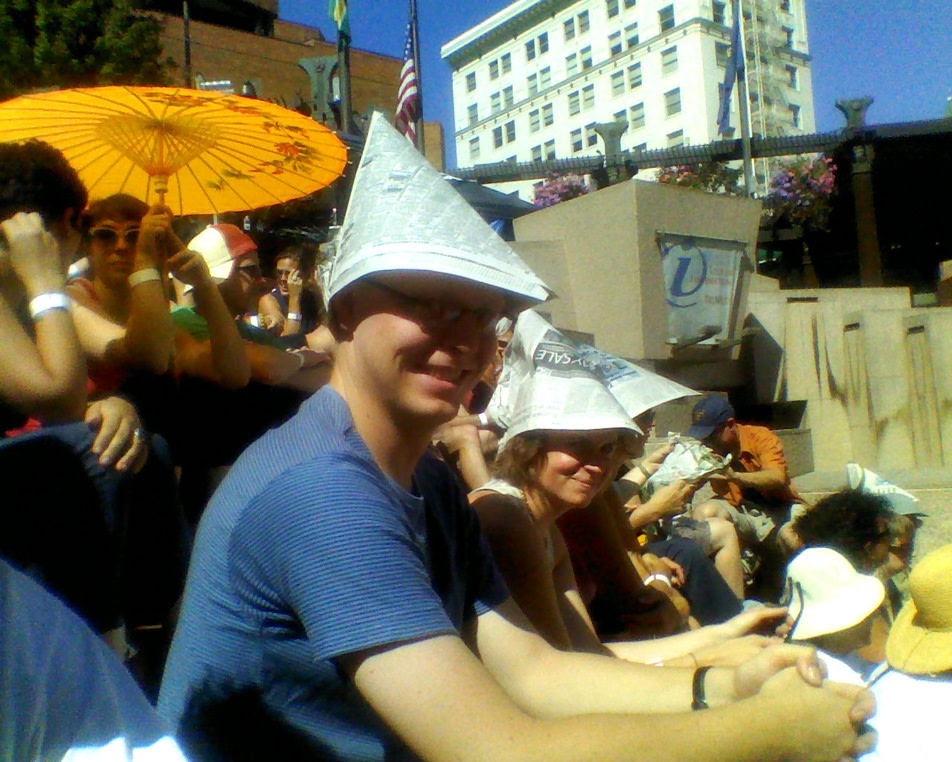 This guy came out to check that our headphones worked (pictured above). They did.
I needn't have worried. Small metal objects unfolds a secret fiction—the story of a small-potatoes drug deal—and weaves it amid the hub-and-the-bub of high noon in Pioneer Square. And all of us—audience and unsuspecting civilians—were well taken care of with deliberate technical considerations and honest performances.
The audience headphones whispered the actor's live dialogue and a musical underscore into to our ears. It's an elegant solution to the problem of outdoor performance, where emotional nuance gets lost in the wind, and I get easily distracted by, "ooh, lookit! birds!" or whatever.
The headphones gave the audience immediate focus. We first heard dialogue, unattached to any visible actors.
Two men, friends, are talking. One is going to have surgery, and the other is worried. They talk about mundane things, and also emotional things, love is about holding on to the thing that is loved for as long as you can, explains one.
We can't see them. As we're waiting for the actors to appear, suddenly everyone that wanders through Pioneer Square looks to me like a person who might potentially be "considered to have intellectual or developmental disabilities."
Point taken, Back to Back Theater.
And then, suddenly, they are revealed. Two short men, facing each other and standing close, speaking in private conversation. One man is bleach blond and rotund, the other boney and awkward, both in tracksuit type clothing. Both look a little…odd.
Though at this point it hardly matters, because we have already heard them whisper their feelings and friendship into our ears.
And the scene is set, and I am hooked. As the story unfolds, there is a deal—seems to be drug related—that is set to go down in Pioneer Square.
Two cops walk through the playing area and I tense for a moment, wondering if the dialogue might be misconstrued (it was not).
I would love to see it without the booths set up. Did anyone see small metal objects when the Square was less clogged with vending booths? What was it like?