phile under: theater
See This Now
August: Osage County onstage at the Keller—this week only!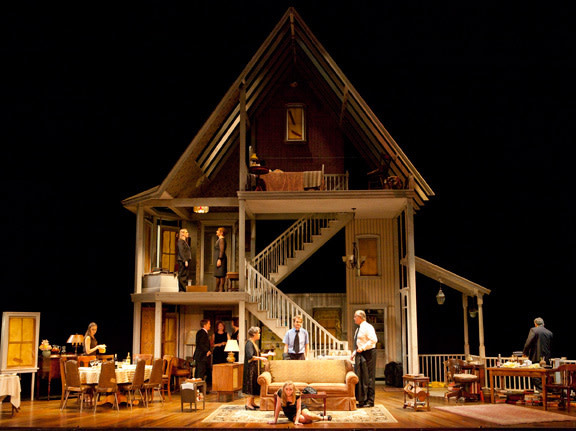 August: Osage County is a new family drama in the classic American theater tradition. The playwright, Chicago-based Tracy Letts, is a major voice on the modern American stage. He was awarded the 2008 Pulitzer Prize for Drama his brilliant, funny, and frightening family portrait.




Experimental It Ain't
August: Osage County follows in the tradition of the riveting family dramas of Arthur Miller or Eugene O'Neill. If this is your cup of tea, for heaven's sake—go! The Broadway touring production opened Tuesday at the Keller, and you've only got 6 more shows before it moves on this Sunday.
Things You Might Want To Know:
It Won Prizes 1 Pulitzer Prize, 5 Tony Awards (including Best Play & Best Director) and numerous other NYC accolades let you know that this play is worth your attention. Plus, you get way more laughs with Tracy Letts than you do with Arthur Miller.
It is Long August: Osage County runs 3 hrs and 35 minutes, with 2 intermissions. Ahem, eat dinner first.. Tickets start at $23.25, and hour for hour, that's a stage bargain when you think about it. Remember: way more yucks than Eugene O'Neill.
It's a Great Story The yarn spins out over one sweltering month in Oklahoma. Three generations of the Weston family return home to gather around a crisis: the patriarch, Beverly Weston has disappeared. Once they are all in the same room, the Westons will wreak many more crisises on each other. A Caveat: August: Osage County is a sprawling, rollicking, story; the characters are often very funny, and sometimes painful, deeply sad and plain mean.
The Ensemble is Terrific You will most likely recognize someone: the truculent teenage granddaughter, the nosey (and noisy) aunt, the long-suffering uncle, and the oldest daughter's grab for control.
Estelle Parsons plays Violet Weston, the family matriarch: an erratic, pill-addicted leather-tough woman capable of inflicting on those around her the peculiar cruelties of addiction. Her pills—and her vanished husband's alcoholism—have cast a warping pall over the Weston family. Academy Award winner Estelle Parsons has many accolades of her own, but you might recognize her as the mother on the TV sitcom, Roseanne.
Parsons is great, as is the rest of the cast. Her first entrance, in a pill-induced haze is a lurching, swaying, rushing, slurring clattering poetry of an addict deep into a long trip. Next time we see her: a Grandma in a pantsuit. Ah, a family can be a complicated business.
The Keller is a big stage on which to see a straight play, and August: Osage County commands every inch of it.