phile under: theater
Ben Franklin: Your Dad, Too!
Ben Franklin:Unplugged is now showing at PCS.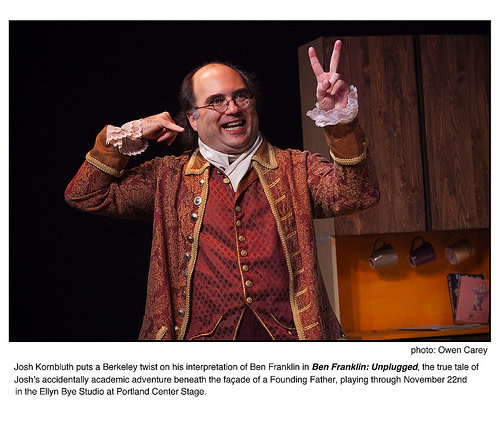 Monologist Josh Kornbluth must be the most voluble guy in his book club. His one-man show, Ben Franklin:Unplugged is playing at Portland Center Stage through Nov. 22 —find event info here.
This bookish, mildly wacky play provides satisfying sustenance on a blustery fall evening.
I was a bit leery due to the hefty title (The Founding Fathers? On a Wednesday night? Really?). And while my Dad, devoted member of his American History Book Club, will find a lot to like about the show, there is also plenty of entertainment for those who don't spend weekends reading Lyndon Johnson's (multiple volume) biography (multiple times).
Ben Frankin: Unplugged is often pretty darn funny and slyly scholarly.
Kornbluth looks eerily like Benjamin Franklin—balding pate, bespectacled visage, pearish shape. He looks in the mirror one morning and is shocked to see his likeness to America's First Citizen, and so begins his herky-jerky journey to discover Ben Franklin.
Before he was a monologist, maybe best known for his Red Diaper Baby, Kornbluth was a copy editor at a series of alternative weeklies. He moves like one.
This is one of the things that I love about live, solo, performance: there is time to sink into the unique burrs and snags of the performer's rhythm. Kornbluth's voice rushes, rises, and sloshes about, and he has a gallumping physicality, pulling long faces and gesturing emphatically.
He bumps along, in a cozily-garish orange wallpapered kitchen, and introduces a lively cast of characters: his mother Bunny and her sister Birdie, old Jewish communists who call him regularly from New York City; Michigan Mitch, a militia member protesting outside the United Nations; and Jim, a desperate, dusty, history clerk at Kornbluth's independent Berkeley bookstore. Kornbluth quickly becomes fixated on the relationship between Ben Franklin and his illegitimate son, William.
He brings his two subjects together: his family, and his Franklin "researches" in Act Two. After a very funny section about shooting cable TV spots on the streets of New York dressed as Ben Franklin, Kornbluth sits at and reads letters between Ben Franklin and his son. He simply, and suddenly, brings onstage the shock and the stakes—the personal, familial, blood costs—of the American Revolution.
What a beautiful moment in the theater. It take a while to get there, but its worth it.
It appears to be America-ness! season at the Armory. Upstairs, Ragtime, a sweeping historic musical set in New York City during the early 1900's, is playing on the main stage.
Is it a programming strategy, do you think; or a synergistic accident of scheduling?
I am now benching my blogger self for use of the word, "synergistic." I cede the floor to you.
Blog Note: Starting right now (woot!) Culturephile is covering the Portland theater scene with as much regularity as we can muster. Well, I can muster, since Lisa has graciously agreed to let me perch on her posts. I did some TBA coverage for Culturephile this season, and my backstory is here if you're curious.