phile under: theater
Cowboys Trapped in a Black Box
Sam Shepard's Fool for Love at CoHo.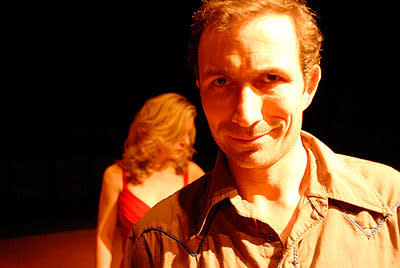 May sits on the edge of her bed, in an anonymous room, in a divey motel, on the outskirts of the Mojave desert. Her feet are bare, her head hangs low, her face is hidden by a tumble of blonde hair.
His boots planted wide, his belt buckle gleaming, Eddie considers her. He has driven miles and miles to see May, to find her, to begin again, and he is concerned. Does she need something to eat? Chips? Tea? Maybe he should go get something?
He moves toward the door and she flings herself onto his feet. No, he should not leave.
As Fool for Love begins, we learn that Eddie and May have begun (and ended) many times before. We will watch them battle it out again in the 70 minutes of Coho Production's presentation of Sam Shepard's Fool for Love, playing now through Nov. 21—get more info on the events calendar.
These two are (unsurprisingly) terrible for each other. In CoHo Production's version, the roles of Eddie and May are performed by a pair who are married in real life, Chris Harder and Val Landrum, which is sort of cool. Backstory aside, performance matters more—both actors bring life and intensity to Shepard's muscular, American brand of theater.
Landrum gives May the immutable anger of a grown woman who has been done wrong (after wrong, after wrong) and the impulsive physicality of a rage-full child.
Harder's Eddie is a carefully calibrated, rodeo clown. He teases and toys, backtracks, and switch hits. In Eddie, Shepard brings to the stage an acid tongued rendition of the myth of our American West.
In this darkly hallucinatory lens, real cowboys are rapidly receding into jumbled memories of the past.
A specter of an old cowboy, played with crease-faced, dirty-dungareed, easy authenticity by Tim Stapleton, sits in a rocking chair nursing a bourbon and watching the action unfold.
Eddie is faintly made a mockery beside the old man, He works as a stuntman, not a cowboy, and he parades through the motel room door with props worthy of the Marlboro Man: a bottle of tequila, a shotgun, a lasso with which he ropes the bed posts.
Fool for Love is at its best during a series of beautiful monologues that dot the story. The characters tell tales and memories, truths and lies, each is plainly spoken and viscerally described—travelling by car along a dark country road, walking into a new town, gripped by your mother's hand, seeing the woman you love for the first time. Each speech reveals the ties that bind these characters tightly together.
Eddie and May consume each other like a flash fire, sucking the air right out of the room. It is relentless and sort of exhausting to watch at times, and I with that amidst all the duking it out, we felt even more frequently the flashes of passion that keep them so brutally hooked on each other. The performances and production are solid throughout, and Sam Shepard's masculine vision of America is still fun to watch, more then 25 years after its debut.