Literary Life
What I Saw at Wordstock
Ellroy loses his cool, but what else is new?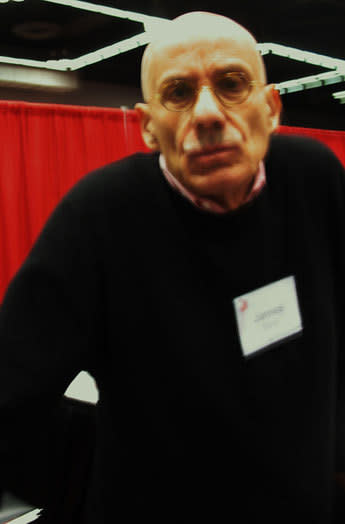 The thing about Wordstock that I both love and despise are the heartbreaking little choices we bibliophiles must make as we navigate this tantalizing festival. So many choices! Do I go hear David Biespiel read from his latest book of poetry, The Book of Men and Women, or should I wander over to listen to Michael Rosen and Jerome Gold discuss their experiences working with (and writing about) at-risk youth? This year, Wordstock organizers have done a nice job of staggering like topics and genres so attendees can sop up as much varied literary goodness as possible, which is no small task.
Here's a peek at what I saw at Wordstock on Saturday:
Joyce Maynard, a writer famous for, among other things, her autobiography, At Home in the World, in which she chronicled her relationship with J.D. Salinger, told us the inspiration for writing her latest novel, Labor Day, came from the loneliness she felt as a single parent. Maynard's syndicated column, Domestic Affairs, ran some years ago in The Oregonian and chronicled some of the milestone events in her life: the birth of her son, the dissolution of her marriage and the death of her mother. Maynard says she's never shied away from sharing intimate, painful things with her readers because it helps her to write truth — at least the truth the way she sees it. Check out Maynard's essay in The New York Times' column, Modern Love, entitled My Secret Left Me Unable to Help.
Next, I went to see the self-described "Demon Dog of American Crime Fiction," James Ellroy. If he'd been a peacock, Ellroy's electrifying plumage would've been fanned out and on full display. The tall, severely thin (he says he exercises "obsessively")writer began his tirade with his signature rat-a-tat-tat delivery of self-aggrandizing statements, calling himself the "potential savior of American literacy" and describing his birth as being "hatched" out of wedlock and thinking in his crib about "women, dope and literary glory." After reading an excerpt from his latest tome, Blood's A Rover, he took questions from the audience. With his signature throaty grumble, Ellroy told the first questioner to "@#$% off" after fielding an inquiry about his right-wing political views. "If you don't like my politics, don't read my books," he growled. Ellroy spoke candidly of his writing process; his influences, including his mother's unsolved murder; and the new love in his life. Right now he's living just a few blocks away from where he was "hatched" in Los Angeles, a city he says he always returns to "when I get divorced." Ellroy is working on a memoir, tentatively entitled The Hilliker Curse (Hilliker is his mother's maiden name) about "women and me" that should appear on bookshelves in the spring.