phile under: theater
Big Acts on the Small Stage
Bingo with the Indians at Portland Playhouse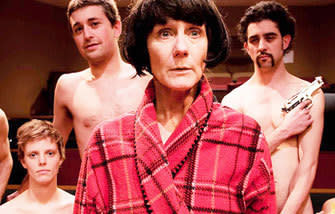 Something really good is happening on stage at Portland Playhouse Theater. Bingo with the Indians opened there on Saturday night. The play was written by Pulitzer Prize finalist Adam Rapp and originally produced in New York City in 2007.
The vibe at the Portland Playhouse theater is cool: a converted church space on NE Prescott, it's entryway is invitingly festooned with white Christmas lights. Inside, audience seating is a grab bag of mismatched couches and chairs on plywood risers. There's beer and popcorn in the lobby.
The lights go down on the single set: a cheap motel room designed by Dan Meeker with understated meticulous attention to detail.
When the lights come back up and the show begins, the acting onstage is superb.
Lava Alapai plays Dee, an unflinching theater director, in fatigues and combat boots. Her intensity becomes iron-willed self-delusion as the story unfolds. Brian Weaver is Wilson, a sweetly androgynous, calmly sadistic, master stage manager. John San Nicolas plays Stash, a sort of monstrous actor, whose looks and talent are increasingly blurred by ego and addiction.
This ragtag group arrives in small-town USA, desperate to finance their next production. The plan: hold-up a local Bingo game, and make a quick getaway with the cash box.
Ahem.
This is a bad plan. Things quickly go awry and Bingo with the Indians spins out to explore larger themes about the costs—literal and metaphoric—of creating art. It is a wickedly, darkly, deliciously, funny play that is often merciless.
AUDIENCE WARNING: Language, Violence, and Nudity
Also, it's funny.
Yeah, yeah, we can gloss over those elements in the movies. But live onstage, nudity and even violent language can land uncomfortably close.
If this is not your thing… take note of upcoming productions. Portland Playhouse is a company to watch, and if you'd rather see the group clothed—and less foul mouthed—they are planning a production of August Wilson's Radio Golf in April.
One last word on the actors: Lorraine Bahr, Kurt Conroyd, and Kristen Martz, all play locals who stumble into the plot and every entrance is a spot-on delight. Can't say more, you'll be so happy to be surprised. Go, check them out.