phile under: art graphique
Stand Up Comedy's "Ed Ruscha's Bits"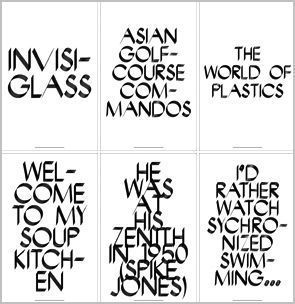 It's not a new project, but it's new to me, and I like it.
"Ed Ruscha's Bits" are 169 posters Scott Ponik typeset for Stand Up Comedy, (811 E Burnside) Diana Kim and Rachel Silberstein.
Originally made for the New York Art Book Fair in 2008, the Bits were included in a November show designer Andy Beach curated for Kiosk in New York, and I picked up a few at Portland's recent Publication Fair. The text, according to Ponik's website is indeed lifted from Ruscha and the phrases are set in the MARQ typeface by Karl Nawrot.
See all of "Ed Ruscha's Bits" on the Stand Up Comedy website.