phile under: art
Tidal
opening at Disjecta on Friday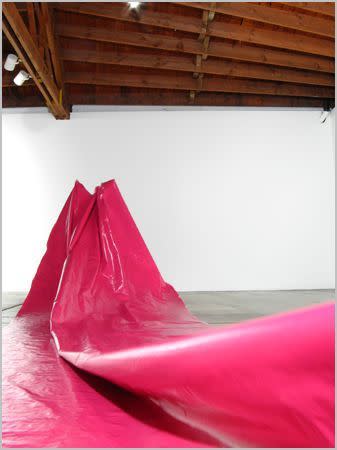 Tidal is going to be the Disjecta (8371 N Interstate) exhibition we all remember 10 years from now. Jenene Nagy has the chops to make something remarkable with the alternative art space's expansive gallery, and I'm glad she has the chance. Opening Friday, January 22, with a reception from 6-10 PM, Tidal is Nagy's latest in a series of ambitious installations that have included (locally) "False Flat" (2007) at Linfield Gallery and "s/plit" (2008) at the Portland Art Museum.
Nagy's installtions are often wall paintings of monochrome forms that spill off the wall onto shaped planes, conflating painting/wall/sculpture. Her means are made evident, especially the exposed 2×4′s that provide structure…no illusion here…and no preciousness, these are humble, utilitarian materials. She has in the past referred to her work as relating to stage sets (an earlier piece called "Sky Prop" as I recall was a grouping of pink jagged shapes on 2×4′s like giant matte lollipops, but meant, apparently, to be cloud-like props). In her studio pieces, it's clear she's experimenting with the the traditional means and results of painting and sculpture where a canvas sags and twists like the fabric that it is, minimalist paintings are freestanding, and sculptures and paintings talk to one another.
All of this is to say Jenene Nagy's already working nationally, having just done an installation in Ohio after previously showing in LA with an upcoming residency also in LA, and she may not be ours forever. Go see this show.
The artist's statement: "Using materials most commonly associated with construction, Tidal transforms the viewing arena into a pared-down space for possibility. Perched high in the rafters of the expansive gallery space, the piece challenges viewers' expectations of interior and exterior, the spectacle and the mundane. Through the use of drywall and 2×4s, the work is linked to the built space of the gallery, literally merging with its makeup. With its jagged shape and electric pink paint, Tidal encroaches and engulfs; it is an invasion. It shifts the understanding of our physical scale in relationship to the space, de-familiarizing what we understand and expect of both the built and natural environment. Here, the commonplace becomes a super-phenomenon, evoking a violent beauty."