phile under: Fertile Ground
Preview: Tandem
Sneak peak onstage at the Fertile Ground Festival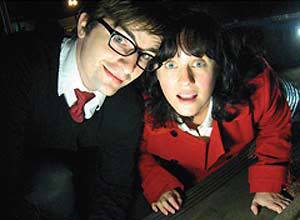 Come one, come all, and see over a dozen world premieres, and more than 50 other art events, readings, workshops, visual art, dance and music, all made in Portland.
The second annual Fertile Ground Creative Festival starts this Friday, Jan. 22 and runs until Feb. 1.
Last week I, along with a happy-go-lucky group from Portland City Club, snagged a preview of Tandem, which opens at Curious Comedy on Friday night and runs during Fertile Ground.
Tandem is the debut show of the comedy duo (oh, why not) called Jean Louis, aka Stacey Hallal and Bob Ladewig. The couple (in real life, in business, and onstage) are the founders of Curious Comedy and their show explores relationships and communication through character-based sketches and stand up.
And here, of course, is the fifteen dollar question, "Is sketch comedy worth trucking it up MLK for? 'Cause I've got hulu at home."
Turns out, yes.
Make your way to Curious Comedy, order a beer (and panini, if you want) settle into the cozy cabaret-style table seating and be roundly entertained by the squabbling pair of stick-up artists trying to execute a hold-up, or the lovey-dovey couple pulling faces at the pound; the frantic secretary with an obvious crush on her boss, or the loudmouth father who shouts at his timid son from the Little League bleachers.
These Second City alums are hilarious, and their comedy chops are legit. The proliferation of sketch makes it easy to see lot of yuckster-hucksterism onstage and screen. Comedy is so often the land of the lonely-embittered single guy/gal (and I speak from personal experience), Tandem is written from a different point of view.
Jean Louis' characters feel effortlessly inhabited, affectionately performed, and true. As performers and writers, the two are confident enough not to take cheap shots. It doesn't mean the show is snooty. It just means it's generous. I love that.
Tandem is running as part of the Fertile Ground Festival on a bill with SexyNurd: Rockstar Trapped in a Nurd's Body, performed by stand-up comic auGi. I haven't seen it, but the one-man-show is about a self-professed nerd's childhood dream of become a rockstar. For heaven's sake—nerd musicians?—this is Portland, there must be an audience for this. Is it you?
Tickets for Tandem are $15, or free with a ticket to SexyNurd. Or get this great deal: festival passes are only $50 and grant you admission to each and every festival event.
It's local. It's sustainable. It's indoors. It's January. It's art. So, what are you seeing?
A complete festival calendar is available at fertilegroundpdx.org.