Article
Preview: Truth & Beauty
Sneak peak onstage at the Fertile Ground Festival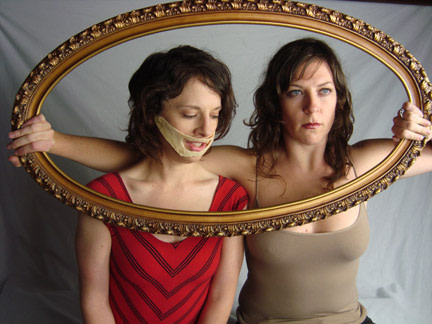 Well, well, well— it turns out that I'm dumping all y'all to move to Nashville and become Ann Patchett's new best friend.
It's not that much of a surprise, really, that the author of The Magician's Assistant—a tender story filled with love, loss and finely drawn characters—would turn out to be a good sort of egg. It is the stage adaptation of Patchett's memoir Truth & Beauty that makes me feel that the woman is a friend worth seeking out. Truth & Beauty is the story of Patchett's long, impassioned friendship with writer Lucy Grealy.
Truth & Beauty the play opens tonight at Shaking the Tree and is part of the Fertile Ground Festival. Patchett brings grace, elegance, beauty and magic to her pages, and Many Hats Collaborations breathes those same qualities onto the stage.
Adapted and directed by Elizabeth Klinger, the play does a remarkable job of avoiding pedantism, and expositional drudgery. Created in collaboration with her two lead actresses, Betsy Cross and Jessica Wallenfels, the play doesn't hold too tightly to the poetry of Patchett's writing (although it's easy to hear, if you're listening for it) instead, the women have translated that lyricism into movement.
On a simple stage set: a few miss-matched chairs, the occasional video projection, and some props, the cast crafts the story of a friendship between women that starts strong in college and expands across continents, careers, love and marriages. The friendship holds, always at its center, the difficult thing at the heart of Lucy Grealy's life. A disfiguring cancer, suffered as a child, makes her a star writer, as an adult. But it is also leads to Grealy's undoing, as her pursuit to repair her damaged body leads to more damage and a grim spiral of addiction.
The story of these two women is told with the help of the multi-hatted Joe Spencer, who plays a variety of supporting roles (doctors, boyfriends, husbands, a fortune teller). He does a great job of quickly sketching, without ever tipping into caricature, the characters who orbit the friendship that lies at the heart of the story.
Jessica Wallenfels, who plays the disfigured Lucy is a beautiful dancer, and we are grateful that her movement can translate the joy of her live, in a way that her face cannot. The dance sequences are varied—painful surgeries, joyful successes, or funny romantic mis-adventures—and they are specific, hueing closely, and clearly to the story that is being told. Betsy Cross plays Patchett with matter-of-fact tenderness and humor, and a grounded-ness that kind of crept up on me. As that as the lights came up I wondered, "what does the real Anne Patchett look like?" It seemed to me that she must look just like Betsy.
This isn't always an easy play, but Truth & Beauty reminds me of the magic and grace of friendships, and that's an evening well spent.