phile under: art talk
Terry Winters Lecture at Reed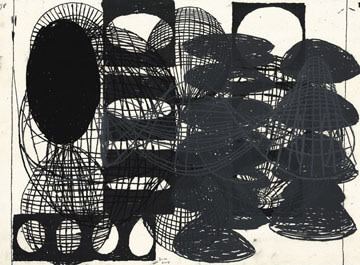 Tonight, Wednesday, February 24, at the Vollum Lecture Hall at Reed College at 7:00 PM, painter and printmaker Terry Winters will lecture in conjunction with his exhibition in the Cooley Gallery, Linking Graphics, Prints 2000-2010. The lecture's to be followed by a reception at the Cooley.
From the press release:

Terry Winters is a world-renowned painter and printmaker whose work investigates biological, artificial, and information-based structures in a uniquely rigorous and imaginative manner. Winters explores the world's dynamic energies through intricately fluid geometries. His prints and paintings speak to the history of abstract art, and explore the pulsating biological and spiritual dimensions of human existence. For the last four decades, Terry Winters has created interrelated bodies of prints and paintings that are completely unique in the history of American art. Terry Winters' prints are exhibited at the Douglas F. Cooley Memorial Art Gallery through an academic collaboration with the Colby College Museum of Art, Waterville, Maine.
Born in Brooklyn, NY, in 1949, Terry Winters had his first solo-exhibition in New York, in 1982, at the Sonnabend Gallery; subsequently, he was included in the Whitney Biennials of 1985, 1987 and 1995. Additionally, he held a one-man show at the Tate Gallery in London; his work has been exhibited at the Corcoran Gallery of Art as well as with many international museums and galleries. Winters' master prints are held in the collections of major American and European museums including: The Museum of Modern Art, NY; The Whitney Museum of American Art, New York; and The San Francisco Museum of Modern Art, San Francisco, CA.
Terry Winters attended the High School of Art & Design in New York and continued formal art training at the Pratt Institute, receiving a BFA in 1971. His early paintings are influenced by minimalist, monochromatic paintings, like those of Brice Marden. Winters has a love of drawing which led him to introduce schematic references to astronomical, biological and architectural structures as the subject matter of his paintings. He began exhibiting his work in 1977, and by the early 1980's his ideas had developed into loose grids of organic shapes beside lushly painted fields. Bill Goldston invited Winters to print at the Universal Limited Art Editions studio in 1982. Winters' work at ULAE has become increasingly complex, combining elements of drawing with painting. The artist lives and works in New York and Geneva, Switzerland.