phile under: theater
Willow Jade: Extended!
Bloody spectacle, good acting, and Orcs through Feb. 14.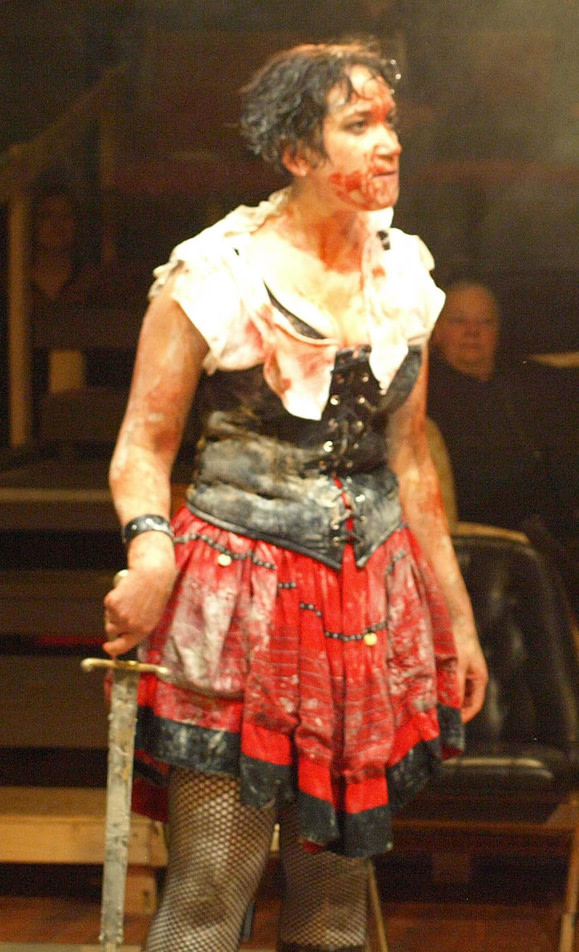 Willow Jade, written by local playwright Hunt Holman, received a staged reading at Portland Center Stage's JAW Festival in 2008. And now its back, enjoying a full-blooded, fully staged premiere at Portland Playhouse.
It premiered as part of the Fertile Ground festival, and Portland Playhouse has recently announced an extension of added 8 more shows. It's running through February 14.
This is great news if you overlooked Willow Jade during its festival run. This is a fun night at at the theater. If you are a supporter of good, locally-grown work, go. And to you, my occasional-theater-goer-friends who are leery of live performance, Willow Jade is a great one to try out.
Willow Jade is deeply familiar, funny, and filled with adrenaline pumping spectacle. It is a play about the stagnant stuck-ness and familiar security of small town living, and it is also an orc-filled bloodbath.
Doug has returned home without much to show after seeking his fortune in the big city of Seattle. His plan to be a Dungeons & Dragons Game Master turned out not to be so lucrative.
So here he is, back at home somewhere in rural Washington, and broke. And there's a D&D game planned for tonight, a sort of nostalgic re-gathering of the old high school buddies.
Again, Portland Playhouse delivers terrific acting from the entire cast. The adrift Doug is reunited with his slacker friend Lance, who still lives at home, and his friend Steve, who has made it, locally, as a real estate agent flush enough to afford cycling gear, which serves only to highlight his nerdy essence like a spandex beacon.
The play is set in Doug's mom's kitchen. Sondra is played with crass abandon by KB Mercer, and her kitchen, the set designed by Daniel Meeker, is so painstakingly realistic that the sponge on the edge of the kitchen sink is grimy with use and there are dog scratches on the door frame.
Doug has been kicked out of his apartment above his mother's garage. And that there is a slightly seedy mystery surrounding the new tenants, especially Willow Jade, who is rumored to be an underage runaway.
And midway through this kitchen-sink drama: playwright Holman cues the orcs.
Who knew that Dungeons & Dragons, a game that I (admittedly ignorantly) associate with funny-shaped dice and NEEEEEEEERRRRRRDDDDDSSSSS, contains within it the high drama of Shakespeare's Titus Andonicus, and the dark, bloody comedy of Martin McDonagh? Willow Jade accomplishes a neat little story trick; showing us the regular lives that most of us lead, and the yearning for grand adventures that we hold onto within them.
Mostly, watching the goopy, bloody stage fighting is FUN. Forewarned is forearmed: shoes in the first row may be subject to a bit of gory splatter.