phile under: theater
On Stages: An Uplifting Melancholy, A Sorted Adventure
Melancholy Play at Portland Actor's Conservatory and Mike's Incredible Indian Adventure at PCS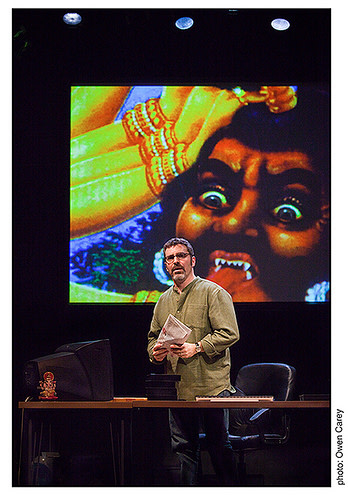 Got a little free time this week while you're waiting for the overly aggressive April squalls to clear?
Melancholy Play, in its final weekend onstage at Portland Actors Conservatory, is worth a peak between storm clouds.
The six-member ensemble, all talented and fun to watch, is made up primarily of students from Portland Actors Conservatory's two year professional training program.
Breathing! Exploring! Feeling! Ah, life in art school is all-consuming and so magical, so dramatical!
It's fun to watch these young artists making their way onstage. Their collaborative closeness and group cohesion (a state that blooms in the art school hot house), is used to neat effect in Sarah Ruhl's witty Melancholy Play. Described as a contemporary farce, Melancholy Play it follows the trails and tribulations of Tilly, a bank teller who cries beautifully.
Played by the entirely beguiling Stacy Downs, Tilly is a waif-y beauty, whose melancholic disposition seems to be incurable, and pretty much irresistible, to all she meets, her psychiatrist, tailor, and hairdresser included.
On a stage hung with white window frames against a vibrantly lit backdrop that changes its color to match the mood, Melancholy Play is underscored by a (mostly melancholy) cello, with music composed and performed by Liz Byrd. But it really is, really funny, really often.
Lorenzo, the Unfeeling is Tilly's psychiatrist. Played with panache by Jesse Klein, his happiness (and hair) is made increasingly wretched by his longing for Tilly. Frank, the handsome tailor, is Tilly's true leading man and he is played with gentle good-humor by Robby Ciardi Lundberg. Frances, a reflective, hippie-ish hairdresser, and her partner Joan, a rather severe British nurse, have a love that oscillates between slapstick physicality, jealous rivalry, steamy seduction, and affection. The two actors, Katharine Barnes and Fernanda Stier respectively, find the humor and the absurd without ever loosing their emotional connection.
It is the great accomplishment of Ruhl's play that its characters careen from tragically sad to overjoyed, for reasons that they can grasp at only glancingly. (Also, people turn suddenly into almonds, just a heads up). But life is like that, sometimes the mutability of emotions sending us tumbling down one rabbit hole or another. It is up to us, exhorts Tilly to go and get our friends if they get stuck out there in melancholy. This all-for-one-and-one-for-all joie de vivre is really satisfying delivered by a gaggle of actors who, I imagine, have been living that way for two years.
I hate to look forward towards the bittersweet moment of graduation, when all that beautiful training hits the slings, arrows, and skids of the wider world.
Here is where Mike Schlitt picks up. He is the writer and performer of Mike's Incredible Indian Adventure, which opened last week in the studio theater at Portland Center Stage.
At the start of his tale, Mike is 38. His theater school glory days at UCLA are gone. He has a day job, a wife, he wants a child, and he is paralyzed by his longing to Make Great Art.
When he is offered the opportunity to direct a schlocky Neil Simon musical for tour in India, Mike jumps at the chance. The one man show, told with a generous dose of self-aware snark, and the liberal use of video footage from his trip, tells the story of Mike's Incredible Indian Adventure, the ill-conceived tour, and the ill-conceived documentary plans to film around it.
The gig starts with a job offer from a shady producer (on video he is a hilarious character: a study in slick, tanned, buffoonery). The tour is financed by a mysterious Indian prince named Vikram (a compelling hotshot who is revealed late, and too briefly, but worth the wait).
The whole endeavor smacks of snake oil salesmen. Mike knows it, but he takes the gig anyway, and fools himself into thinking he can make it different. It's a cynic's move. I laughed, pretty often, in recognition of the pie-eyed self-involvement of art-making. And Schlitt is an engaging intellect and storyteller, but Mike's Incredible Indian Adventure never quite overcomes that first world weary bargain and his Indian adventure remains more his then ours.