phile under: Theater
Grab the Chance to See August Wilson's Final Play
Radio Golf is onstage now at Portland Playhouse.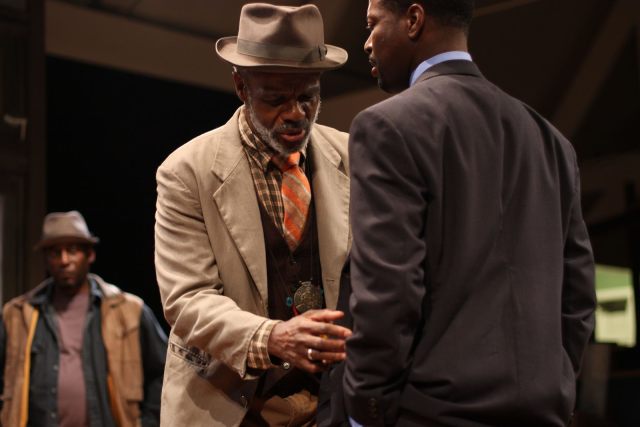 Dispatch from The Stage contributed by Alexis Rehrmann
(who, really, really, loves The Stage, and also knows her stuff)
By the time the lights come up at intermission, you'll be pretty much hooked. No matter that there is FREE BEER in the lobby at the Portland Playhouse theater, no matter that the church-pew seats can be too snug.
By intermission, a glowing production of Radio Golf is well under way. And all you'll want is the lights to go back down, so that you can see what happens next.
Radio Golf is the last in playwright August Wilson's Pittsburgh Cycle, which tell stories of African Americans decade-by-decade during the twentieth century. This last is set in the early 1990s, a time when cell phones are still large, and when diversity in America has been so embraced that an African American man, Harmond Wilkes, is running for mayor of Pittsburgh. But what will it cost to win?
The production runs Thursdays-Sundays now through April 25th. Get your tickets and go see it. Here's why:
The acting is solid across the boards, and some performances are positively radiant. Lawrence E. Street, plays the handsome, charismatic, privileged, and patriotic, Harmond Wilkes. Harmond made his money in real estate and is gliding through his career plan (with iron-ambitioned help from his publicist-wife, Mame) to be Pittsburgh's next mayor, and beyond. In Mr. Street's portrayal, Harmond begins the play awash in placid entitlement, with a friendly, open-faced blankness that is sometimes adopted by the truly charmed or the unusually beautiful. His guile-less idealism is battle-hardened by plays' end.
Harmond, the rising star, is circled by a constellation of men: Roosevelt Hicks, a money-and-golf-loving friend and business partner, and an unapologetic new-market entrepreneur. Sterling Johnson is an old high school acquaintance. "I've been going though the back door all my life," Sterling explains. He has carved out a living as the unofficial contractor in the Hill District, a blighted African American neighborhood where Harmond has returned to set up campaign headquarters.
Elder Joseph Barlow also makes regular visits to the campaign office, fumbling with a worn plastic bag, in need of a lawyer, and obstinately refusing to engage in the change that is coming to the Hill. A new development is in the works. It was a real estate deal brokered by Harmond and Roosevelt, and will include a Whole Foods, Starbucks, and a Barnes & Noble, but Joe Barlow's house stands in the way. Hmmm. Community strain around urban revitalization, preservation, and gentrification—sound familiar, Portland?
With August Wilson to guide them, both actors Victor Mack (Sterling), and Kevin E. Jones, (Elder Joseph Barlow), have moments and monologues that will take your breath away. In each character is crystallized a long-term cost of low-grade privation on the human spirit. And the language is stunning. Just go, and listen to the words of August Wilson, a Pulitzer Prize-winner and master craftsman of the American stage.
This is a co-production of Portland Playhouse, and the recently-arrived Base Roots Theater Company, a company dedicated to classic and contemporary theater that showcases the unique African American experience. After this beautifully acted show, we're keeping an eye out for more.