Culturephile: Theater
Gracie and The Atom
Catholic school musical thoroughly redeems itself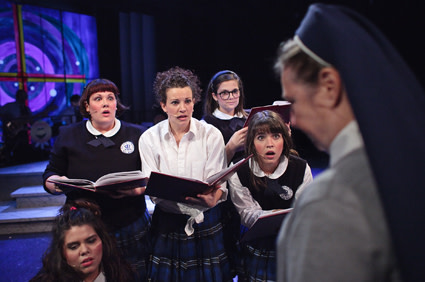 When I was 14, I went to a religious boarding school—and last week, I went back, via Artist Rep's whip-smart and bittersweet Catholic schoolgirl musical, Gracie and The Atom.
But before I say more, a confession: I underestimated this play. As I skimmed the glowing local reviews, I thought maybe the Portland press was indulging longtime PDX musician and newly-minted playwright McKinley. I imagined Gracie actually playing out as a self-pitying Catholic Annie, with all of the hard knocks and none of the life—or, as a plaid-skirted, pubescent Britney Spears redux, flaunting forbidden fruit under a short hem. I now renounce my cynicism. And if my penance is convincing you to catch this winsome, uplifting play, then it's a small price to pay.
Gracie and The Atom begins as a newly-parentless Gracie (Beth Sobo) stumbles into the auspices of Our Lady Of Peace, the aforementioned Catholic girls' school. The story that unfolds, follows Gracie's emotional trajectory through resistance and rebellion, to eventual acceptance and inclusion. (Mercifully, Sobo plays the lead role very straight, free of any hint of trivializing cuteness.) Meanwhile, all the other (slightly sillier) denizens of Our Lady, struggle to reconcile the tenets of faith with the principles of science. In the words of Gracie's physics teacher, Sister Lidwina (Emily Beleele), "If atoms are made of mostly space, and everything we see is made out of atoms, we live in a world made of mostly nothing!"
The principles of physics, it turns out, are a rich and expansive source of metaphor. Comments about positive and negative charge, as well as energy, motion, and momentum, are interspersed in the dialogue both as physics lessons, and as winking hints at character motivation. The effect is sometimes goofy, as when the hormonally-charged Angela (Brooke Markham) passionately explains subatomic attraction; and sometimes heartrending, as when the grieving Gracie tremblingly confronts her father's fate: "Once you burn a log in the fireplace, you can never unburn it."
Though heavily cloaked in Catholic habit, Gracie ultimately makes an exuberantly agnostic statement—not merely accepting, but actually celebrating the fact that we live in a vast, unpredictable universe, and there's much that we can't possibly know.
If heady explorations of quantum theory threaten to bend your Sunday bonnet, not to worry: This show also delivers rollicking rock, touching ballads, girlish flouncing, sisterly solidarity, and a litany of innocent laughs. The acting and singing are brilliant, and the live band expertly and tastefully keeps pace. The minimal staging also provides a nice fluidity and intimacy, although a couple more lighting effects would be welcome (most notably, lightning to accompany thunderclaps during a storm scene).
One final thought: even though teen and tween girls were well-represented onstage, there were very few members of the Glee generation in the audience, and that seemed a shame. Just saying: If you have a yen to take a young female friend to a musical, Gracie And The Atom is bound to generate a positive reaction.