phile under: art talk
Jeff Jahn at Portland Art Museum
(On Thursday nights, PAM stays open til 8:00)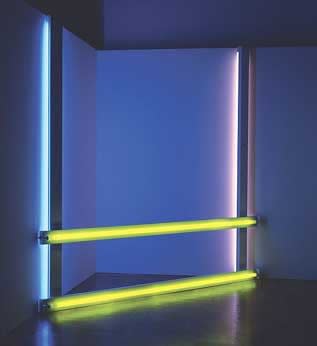 The Portland Art Museum monthly series of talks featuring local arts personalities is an excellent way to get a new look at the museum's collection. Whether you've been there one time, a hundred times or this is your very first visit, viewers of PAM's vast array of work can always benefit from a new perspective.
Tomorrow night is the May installment of PAM's Artist Talks Series. The talk begins at 6pm in the Hoffman Lobby at PAM, the $12 ($9 for seniors and students) ticket includes museum admission and is available at the Museum Box Office. Did you know that the Portland Art Museum is open until 8pm every Thursday and Friday? New Thursday Resolution: Art first. Drinks after.
This month, local curator and creative busybody Jeff Jahn illuminates some of the subtleties behind Dan Flavin's 1971 Untitled (To Donna) 2 and Anne Truitt's Bonne, an acrylic on wood work from 1963. Jahn, fresh from his integral role in the Donald Judd Delegated Fabrication conference and exhibition, will lead a discussion of Flavin's fluorescent fixtures and Truitt's proto-installation piece.
The evolution of installation art has muddied the divisions between sculpture, painting and the traditional notion of the gallery space. With this in mind, Jahn hopes to tease out why he believes that these two pieces are among the best representations of post-war art in Portland's collection. And, as the co-founder of PORT, this city's premiere critical arts blog (Culturephile not included, of course), you can bet he'll make a good argument. The talk is free for members or with admission to the Museum. A happy hour with complimentary food and drink follows.
In the upcoming months, make sure to keep an eye out for additional talks by local creative minds including: exceptional artistic talent and Whitney Biennial selection Storm Tharp (6/10), photographer and Blue Sky Board of Directors President Christopher Rauschenberg (7/8), artist and PNCA mainstay Nan Curtis (8/12) and Douglas F. Cooley Memorial Art Gallery curator Stephanie Snyder (9/9). Attendance is limited to the first 60 on the list, so mark your calendars!