Gallery Guide
First Thursday Preview
What's going on at the galleries?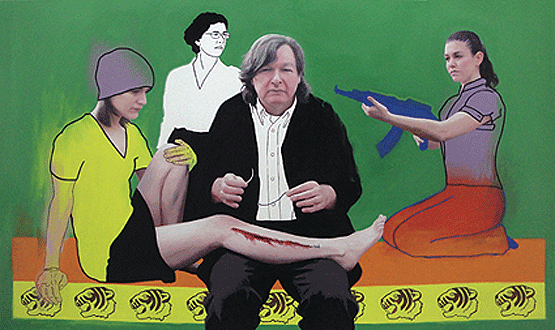 Do you like to get dressed up on the weekends and take in a bit of culture? Too bad. The real creative calendar markers know to wear their walking shoes and thick-rimmed fashionista art school glasses on the first Thursday of every month. Get a glimpse of all that Portland's art galleries have to offer for June and then spend the rest of the summer being smug whenever anyone mentions an artist by name. Here are some good bets:
New American Art Union – Bailey Winters
If photo-realistic painting and revolutions are your thing, then you're going to love Ambush: The Story of the TDA. Bailey Winters' vivid images depict a fictional revolutionary group living on the West Coast during the early 2000s. Mixing cartoon-like scenery with highly-detailed figural imagery, these narrative pictures draw the viewer through the story and tell the tale of the people shown. Explanatory titles add back story to enhance the tableaux.
PDX Contemporary Art – Storm Tharp and Brad Adkins
Fresh from a successful showing at the Whitney Biennial, Storm Tharp's new works are sure to be hot tickets on the local, national and international levels. His intense portraits capture the chaos of spreading ink within carefully controlled forms while his colorfield work hovers in between solid blocks and vaporous musings of hue.
At PDX Across the Hall, Brad Adkins presents a variety of new works that continue his interest in reasserting ordinary objects and their contexts. Referencing everything from household implements to his fellow artists, the artist takes a tongue-in-cheek approach to the manufactured art object.
Froelick Gallery – Two of a Kind
Showcasing works by several local artists, this exhibition pairs 17 photographers with 17 painters and asks them to create portraits of each other. The results explore the ways artists in different media approach the portrait genre and their fellow creative minds. Works include pieces by Laura Ross-Paul, Susan Seubert, Leiv Fagereng and Katherine Ace.
Blue Sky Gallery – Christine Osinski and Alejandro Cartajena
Christine Osinski's black and white images of shoppers are not mere snapshots. They are quick images that probe the personalities of their subjects. Taken in the ubiquitous setting of the supermarkets, Osinski's photographs capture private moments in the public sphere.
The photographs by Alejandro Cartajena find themselves exposing places usually overlooked by society. By highlighting the worn and abandoned areas of Mexico, Cartajena forces a reexamination of urban decay and the process of dilapidation.