phile under: music festival
Sasquatch!
We have finally recovered from the three day music fest. Can we please go back for more?
First, a revelation: attending Sasquatch is like bearing a child—I've become convinced that some mysterious chemical is released in the brain immediately after the experience that makes you forget the pain and want to do it again…and again. Because now that I have fully recovered—physically, mentally, emotionally—from this particular three-day romp in the Gorge, I'm not only ready to relive it, but I'm ready to jump back in. And maybe I'm just basking in the residual glow of river-carved canyons and bleeding sunsets, but of my five years' experience at said romp, this year is currently feeling the most musically fulfilling. So I'll now attempt to whisk you away on a brief(ish) day-by-day tour of that fulfillment. Here goes:
DAY

1 (more from

DAYS

2 & 3 on the way…)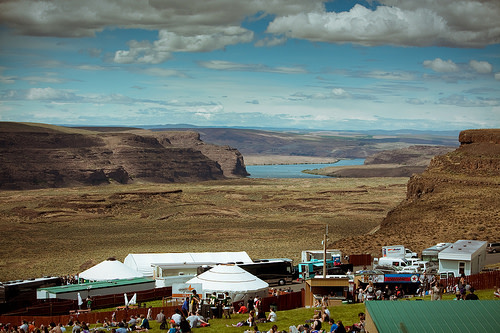 Saturday was ripped wide open by an exhilarating, sun-drenched afternoon one-two-three punch on the Bigfoot stage: Mumford & Sons stormed the stage with dreamy harmonies and folky, fist-pumping ballads ("Little Lion Man" just may be the most cathartic—if self-flagellating—sing-along since Arcade Fire's "Wake Up"); Portugal. The Man answered with an enthralling set of layered, danceable gems; and Edward Sharpe and the Magnetic Zeros capped the old three-fer with a truly, err, magnetic performance. Charismatic lead man Alex Ebert and his crew of musical merry pranksters had the entire audience sweating, grinning, and singing along to infectious ditties like "Janglin" and "Home," arms raised to the sky, bouncing around in a gentle moshpit of cultish love.
From there, it was over the mainstage (still jaw-dropping after all these years) for a solid if unexciting set from Broken Social Scene. The surprise of the day came next, in the form of a raucous and engaging sunset performance by the National, whose (stunningly) morose new album, High Violet, had not previously inspired visions of impassioned onstage stumbling and crowd-surfing—but dapper lead man Matt Berninger delivered some unexpected goods, pleasing the packed crowd with a reckless, entertaining set of upbeat anthems dripping with his signature baritone.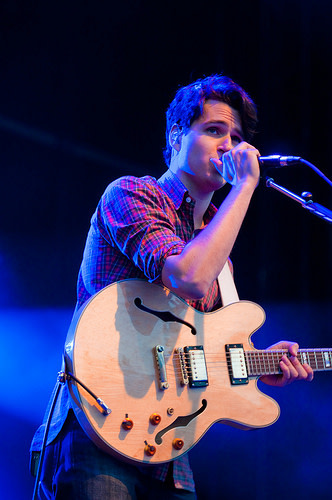 Up next: Vampire Weekend, who positively charmed the pants off the place—with the exception of my surly self—with their sunny afro-pop. The sea of sunburned Sasquatch-goers seemed to be putty in singer Ezra Koenig's hands, his teeth gleaming white, his hair perfectly coiffed, and his voice crisp and sweet as it reached easily into the upper echelons of falsetto-dom. The band sounded flawless, the new material from Contra was well-executed, and everybody had a lovely time—but I was hankering for something…hmm, dirtier? Less…earnest?
The evening was crowned with a regal turn from My Morning Jacket, who stormed the stage with a power-jam that slowly morphed into "One Big Holiday," and then proceeded to rock their way through two hours of electrifying rock'n'roll psychedelia. Jim James, curly mane in full effect, proved himself the consummate rock star of the day.
The only disappointing part of the whole equation was the crowd, which lacked energy and thinned out prematurely. But after a day of trudging up and down the hills of a high-desert gorge and flailing about with wild abandon, fueled only by booze, music, and sunshine, it's hard to blame them. And the thumping beats from Deadmau5's "technological orgy" of a dance party ringing into the night from the Bigfoot stage were, admittedly, quite enticing. (That's not to mention Deadmau5's brand new mouse head, complete with a mouth that opens and closes…yowza!)