phile under: music festival
PDX POP NOW: What Pops Out
Culturephile's culls PDX POP NOW!'s catalogue for variety, excellence, momentum—and full disclosure.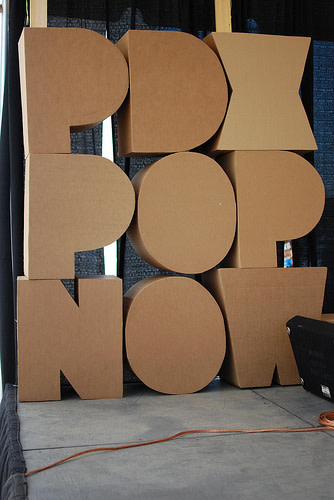 Music nerds, could PDX POP NOW! make your life any easier? This weekend, for the seventh year running, the tireless festival collective will throw an eclectic, carefully curated, conveniently located, three-day, all-ages, concert. For FREE. Portland Monthly Culturephile has perused the program, and offers the following ten recommendations:
Friday, 11:30pm With the tortured-yet-indomitable alto of Corrina Repp at the helm, and the punishing rhythms of Joe Haege (31 Knots) tending to the stern, Tu Fawning parts the same dark waters as PJ Harvey and My Brightest Diamond.
Friday, 8pm Can you tell anything about a band, by the people who go see them? Without naming names, some of the consummate chamber-indie connoisseurs of Portland music, go on and on about AgesAndAges. A six-piece act that includes piano and strings and in which, the band declares, "everybody sings," invites this sort of interest—but only one with musical merit, can actually capture it. Further investigation reveals heavily layered arrangements with jubilant harmonies, and lyrics that bespeak a near-militant positivity.
Saturday, after midnight Hockey sojourned in this burg just long enough to play a few riotous house-shows and meet the right people, then they flew on to bigger things, including mainstream radio play and upcoming calendar dates at Lollapalooza and Austin City Limits. Quick studies, they seem to have mastered—and then one-upped—the "hipster" philosophy, with lyrics that are not merely postmodern, but POST-postmodern—exposing the fraud and insecurity of people who make fun of stuff, while acknowledging themselves as the ultimate culprits. But you don't have to notice their lyrics. To appease the masses (or maybe to mock them), Hockey packages its jaded cynicism in a radio-friendly style that hits somewhere below The Strokes' belt, and above Interpol's oft-gazed-on shoes.
Saturday, 3:30pm Memorandum to Lewi Longmire's Myspace page: "psychedelic" seems a complete misnomer. Lewi Longmire sounds, to Culturephile, like some good ol' country, with here and there a dash of Cajun spice. There's minimal reverb, a consistent display of studio-player-style chops, and for the most part, you can clap on the twos and fours, without missing a beat. That's not to say that Longmire wouldn't mix okay with psychedelics—he's got an upcoming gig at Horning's Hideout, after all. But the inclusion of acts as straightforward and classic as Mr. Longmire, alongside some of the brazenly experimental styles PPN! has been known to host, testifies to the festival's something-for-everyone curation.
Friday, 8:30pm Once you get a headful of the slow, swirling, disorienting stylings of Rollerball, you're bound to say, "Okay, this is what 'psychedelic' sounds like." And also, "where am I?" and "who is playing that saxophone?" and "how does this hurt and feel good at the same time?"
Sunday, 5:30pm Much has already been said about Billygoat, on Culturephile and elsewhere. but never too much. Billygoat is gentle, with plucked harps and wistful whistling. Billygoat is heavy, with pancreas-vibrating bass and deep industrial drum machine. As if the sonic textures weren't enough to suffuse your senses, Billygoat delivers visuals as well, performing before a backdrop of stunning stop-motion film depicting fantastical otherworlds, and mysterious humanoid icons. Imagine your mother's a goddess and your father's a satyr, and they're serving you a magical feast and telling you stories.
Sunday, 11:30pm "How many people are in that band, anyway?" is the FAQ, with regard to Typhoon. The Kyle-Morton-fronted phenomenon that seems to sweep any musician under 25 into its mighty swell, maintains surprising brilliance and clarity. Deep beneath the ever-shifting instrumental flotsam, and ever-changing cast of cute faces bobbing along, lies the irresistible pull of true-blue, heart-felt song.
Sunday, 4pm This just in: Eastern Europe! Seriously, though—eastern-bloc band sounds seem to be chipping further than ever into the mainstream pop-music milieu. Featuring members of the Oregon Symphony and Portland Opera, Krebsic Orkestar brings it Balkan-style.
Saturday, 8pm Wampire will play at Burgerville. Wampire will play in ponchos and no pants. The fearless duo's aesthetic is simultaneously hipster-kitsch, and populist all-ages aw-shucks. Their music, though, is a hard-to-describe ambient, harmonic, fuzzy electro fusion that the kids go mad for.
Saturday, 4pm Come election day, politicians very publicly punch a ballot in their own favor, and, as cameras click, slip it in the slot. This seems tacky, but it would be equally ridiculous, I suppose, if they donned baseball caps and dark glasses, and escaped to the racetrack to evade the attention. The writer of this post is playing a set at PDX Pop Now!, but does not feel at liberty to review her own work. So here's what PPN has to say: "Grey Anne is the one-woman vocal orchestra of Anne Adams (formerly Per Se). Adams has spent years perfecting her unique brand of folk, and it is easy to tell that she's at the top of her game. She has [a] mastery over the loop pedal that very few can match, making for a creative and fascinating use of her stunning voice." Wow, that girl sounds like she'll be good! But I've already put a hundred on Typhoon.

NOTE: PPN runs a jam-packed schedule. Set times have been rounded down to the closest prior half-hour, to give your memory and your parking skills a fighting chance.